Guilty on all counts: Quentin Smith convicted in murders of two Westerville police officers
Smith shot and killed officers Anthony Morelli and Eric Joering on February 10, 2018.  READ MORE >>
---
Latest Headlines
Woman shot in the head in west Columbus

David Perron scores in OT, Blues beat Blue Jackets 4-3

Pending Tuesday's vote, Amanda-Clearcreek Schools could see cuts to students, staff and services

The carbon monoxide detector in your home may not be right for you
---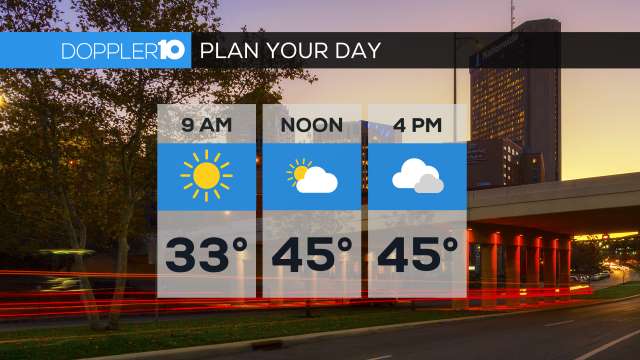 Chilly highs in the 40s don't last...
Today: Partly Sunny. Some Breezes In The Afternoon. A Brief Shower For A Few Spots In The Evening. High: 48. Wind: SW 10-15.
Tonight: Partly Cloudy. Low: 32. Wind: W 5-10.
Tomorrow: Partly Sunny. High: 46. Wind: SW 5-15.
Interactive Radar | Live Radar | Warnings
Weather Discussion: You'll notice some more clouds in the sky this afternoon and some breezes. In the evening, a spot or two will get a quick sprinkle. Then, the clouds break up enough to call the night partly cloudy.
Reminder: Change the clocks tonight. #FallBack Beginning Sunday, sunrise will be around 7:00 A.M. and sunset will be around 5:30 P.M.
Despite sunnier skies on Sunday, our highs are still in the 40s. The last time we had a weekend with highs only in the 40s was March.
We'll warm up Monday to the mid 50s thanks to warmer air coming up from the south. The 50s stick around through Thursday.
Speaking of Thursday, widespread scattered showers arrive in the afternoon and stick around overnight.
Dry weather—and highs in the 40s—returns Friday. The sunny skies continue all weekend, but we'll get highs back to 50 next Sunday (Nov. 10).