The Pulse of New York Tech
Friday, November 1, 2019
These are the 14 Largest NYC Tech Startup Funding Rounds of October 2019

Everything you need to need to know about the largest NYC startup funding rounds during October of 2019; broken down by industry, stage, investors, and more…
The AlleyWatch Startup Daily Funding Report: 10/31/2019

The latest venture capital, seed, pre-seed, and angel deals for NYC startups for 10/31/2019 featuring funding details for Link3D, CampusWire, and much more.
7 Secrets to Leading Others and Enjoying Your Legacy

By default, every one of you who owns a business or manages a team has the title of leader, but in my consulting experience, I find that just having the title doesn't make most of us a leader. I also find that leaders are made, not born, meaning that we all can grow into leadership if […]
More in NYC Tech:
Read more stories on the AlleyWatch homepage >>
Featured Program - Virginia Tech's Masters in Information Technology

Dedicated to its motto (That I May Serve), Virginia Tech offers an Online Master of Information Technology (VT-MIT) program that prepares students to be technological leaders in their fields and communities.

The VT-MIT program offers eight optional areas of study (modules) from a variety of industries allowing a student to customize their program; examples include Security, Software Development, Big Data and Health Information Technology.

LEARN MORE
If you would like to sponsor the Daily Pulse and have your company featured in front of the most influential, educated, and affluent audience in New York, please send us an email to discuss.

The 2019 NYC E-Commerce Influencers is Now Live!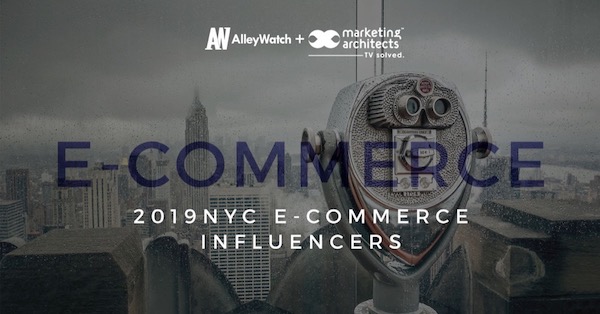 AlleyWatch's 2019 NYC E-Commerce Influencers
feature presented in partnership with
Marketing Architects
is now live! Check out the 25 individuals who are shaping the NextGen Commerce landscape in New York City.
VIEW NOW
Advertising on AlleyWatch:
AlleyWatch is the single largest organization that is focused on the NYC Startup, Tech, and Entrepreneurial ecosystem. We have a number of different options that will allow you to reach a highly educated and affluent audience of tech influencers at scale. If you are interested in discussing further, please visit us here and we can walk you through the various options, and how we can make it work for you.
Like what you've been seeing from AlleyWatch?
You can help us spread the word. PLEASE FORWARD THIS EMAIL and let your friends know they can subscribe here.

Did you Know?
54% of the AlleyWatch audience earns over $100K a year, the number of individuals earning over $150K/yr is 4.03x the internet average, and 58% is in a management, C-Suite, or Board position. An AlleyWatch reader is 2.77x more likely to hold a premium credit card than the general internet population, 7.67x likely to frequent a bagel shop, 8.58x likely to wear Armani, 7.68x more likely to be interested in personal finance, 5.21x more likely to be interested in enterprise computing, 4.1x more likely to be a fine dining top tier spender, 10.14x more likely to own a BMW, and 9.02x likey to visit a Luxury hotel and resort as a Top Tier Spender.