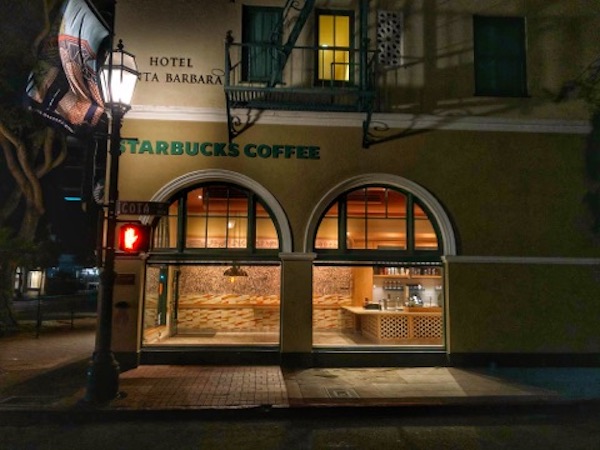 photo of the day: 04/12/2020
Today's Weather:?Generally sunny despite a few afternoon clouds. High 63F. Winds SW at 10 to 15 mph.
Local reader Ken Baxter shared a series of photos titled "scenes from quarantine" which included this empty Starbucks on State Street. These are strange times indeed, but it's important to continue social distancing and self-isolating to contain the spread of COVID-19. We hope everyone had a nice holiday weekend in whichever way you chose to celebrate, or not celebrate. We're heading into another week of quarantine and turns out today is national "Make Lunch Count Day." The edhat staff feel they've been celebrating this every day, but in case you haven't, today is focused around your lunchtime meal. Apparently this "holiday" was commissioned by the restaurant chain TGI Fridays?in 2016 and is reminding American workers to get away from their desks for lunch. Enjoy your lunch today edhat readers, wherever you choose to have it.??
Remember to support edhat and our commitment to providing free news and discussion by joining our?subscription service or by renewing at edhat.com/buy-subscription.
Goleta Launches #GoodLandGoodPeople Photo Campaign
The City of Goleta launches a photo campaign to highlight the good things people are doing in the community.
Sunday Update: 267 Total Coronavirus Cases
Santa Barbara County Public Health Department reports an additional 3 confirmed cases of COVID-19 in the county. The total number of confirmed cases is 267.
Shots Fired on Salinas Street
Roger reports a possible drive-by shooting near S. Salinas Street and Indio Muerto.
Antibody Testing for COVID-19?
Are there any locations in SB County or any neighboring counties that are offering antibody testing for COVID-19?
A Visit to the Moon
Chuck takes edhat readers on a visit to the moon and its large rayed craters Tycho and Copernicus.
Scenes from Quarantine
Ken shares photos of Santa Barbara during the COVID-19 shelter in place order.
CASA Volunteers Deliver Easter Baskets for Children
Volunteers from the Court Appointed Special Advocates group assembled and dropped of Easter baskets for children under protective care of the court.
Dog of the Week: Charlie
Charlie is a sweet watchdog who is great with kids and is looking for a home.
Cat of the Week: Merida
Meet Merida, a shy but loving cat who's ready to quarantine with you.
Favorite Streaming Show?
Do edhat readers have a favorite television show they've been streaming since the quarantine?
Fight on W. Valerio
Roger reports a fight with baseball bats in the 500 block of W. Valerio.
2020 Women of Achievement Luncheon: Association of Women in Communications
Date: 2020-04-13 Category: FUNDRAISER
Barbara Ben-Horin, CEO of Girls Inc. of Greater Santa Barbara, and Luz Reyes-Martin, Executive Director of Public Affairs and Communications at Santa Barbara City College, will be honored by the Santa
PropertyTech: The Peril & Promise
Date: 2020-04-13 Category: LECTURE
MIT Enterprise is hosting a lecture on "Property Tech: The Peril & Promise" on May 20th at the Cabrillo Pavilion.
Connect with Us:
InstagramFacebookTwitterPinterestUn-Subscribe
Contact Info:
Edhat, Inc.
PO Box 3846 Santa Barbara, CA 93130

Email: [email?protected]

? 2020 Edhat, Inc. All Rights reserved.