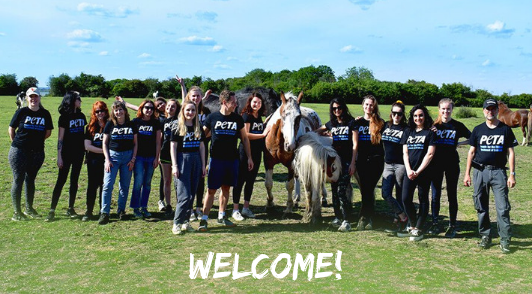 Dear Grayson,
Thank you for signing up to PETA's Action Team! You're now part of an inspiring movement of people using their voices to end speciesism and animal exploitation.
Over the next three months, we'll send you resources, tips, and advice on taking meaningful action for animals. From time to time, we'll also ask you to sign urgent petitions and invite you to take part in our protests.
Want to take some actions for animals now? Here are five simple steps to start with:
Step 1: Add Action@peta.org.uk to your contacts to make sure you never miss an e-mail from us.

Step 2: Do your research, and know your facts. Head to PETA's

Issues page

to learn about the suffering of animals used in

experiments

, killed for

food

or

clothing

, exploited in the name of

entertainment

, and abused in other ways.

Step 3: Add your name to PETA's crucial

petitions and e-mails

.

Step 4: Follow us on

Facebook

,

Twitter

, and

Instagram

to stay in the loop with the latest animal rights news, and share our exposés and videos with your friends and followers.

Step 5: Listen to

The PETA Podcast

produced by PETA US, to get behind-the-scenes access to PETA affiliates' philosophy, current initiatives, victories over animal abuse, ideas for a more humane world, and everything that makes us sometimes controversial, always effective, and impossible to ignore.
Need some more inspiration? Find out why activists like you are crucial to helping to create positive change.

We'll be in touch again next week with tips on getting active for animals in your local area.
Sincerely,

Theo I
PETA UK

PS: If you have any questions, don't hesitate to get in touch!