Presenting the all new ACEL 2020 News, Workshop and Events Newsletters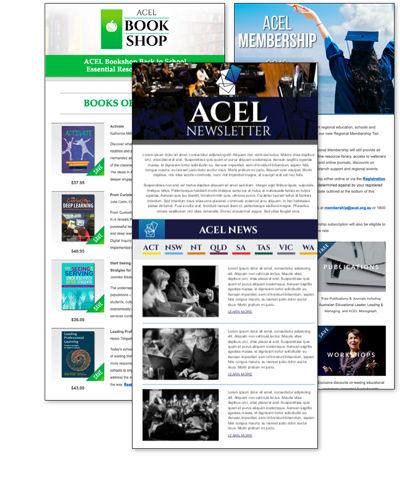 In 2020 ACEL will introduce a new and improved communications schedule, bringing targeted news, offers and events in a combined weekly ACEL newsletter. This new and comprehensive newsletter delivered each Tuesday [commencing Feb 11th] will cover all aspects of professional development including news, events, publications, programs and special offers streamlined to provide the essential information and support in a more concise manner. This weekly newsletter will also be supplemented by fortnightly members newsletter highlighting links to new resources made available within each period, plus a new regional newsletter will be sent each month to our regional members and subscribers focusing on local offers and events.
In recognition of these increasingly busy times these new communications will consolidate and improve our information, while reducing the quantity of messages to your inbox versus our previous individual messaging per event. For our bookshop customers the fortnightly catalogue will still remain available highlighting our special offers on essential releases and resources.