F

REE Webinar September 17!
Join us as we welcome Sam Rashkin!

We are always exploring new opportunities to support our industry and we are excited to announce an upcoming webinar we will be sponsoring!

Contractors and businesses are always looking for a competitive edge and we thought you might find this information useful when exploring your options. Join us in welcoming Sam Rashkin as he discusses a new DOE program that might be a great fit for you.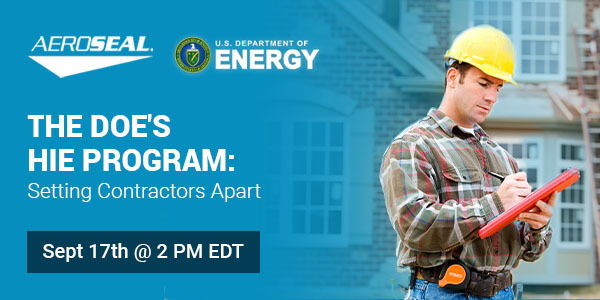 The DOE''s HIE Program
Setting Contractors Apart From Their Competition
Home Improvement Expert is an easy way to get a quality job for energy equipment replacement and other retrofit projects. Research findings reveal that when improvements are properly installed, energy savings can be high with performance risks minimized. Contractors are always trying to set themselves apart and gather more homeowner leads. Find out more about how adding this tool to your toolbox offers you greater potential.

Sam Rashkin Joins Us to Share:
Objectives of the Home Improvement Expert Program
Specifics of the Insulation Fact-sheet
Specifics of the Duct Sealing Fact-sheet
How to Leverage This Program Within Your Business

SPECIAL GUEST

Sam Rashkin
Chief Architect, Building Technologies
Office of Energy Efficiency and Renewable Energy

During his 20-plus years as a licensed architect, he specialized in energy efficient design and completed over 100 residential projects. Sam has managed Energy Star for Homes since its inception in 1996. He has served on the national Steering Committees for USGBC's LEED for Homes, NAHB's Green Builder Guidelines, and EPA's Water Sense label, and on the development team for EPA's Indoor airPLUS label. Sam has also prepared hundreds of articles, technical papers, reports, and seminars; and contributed to other books on energy efficient and green construction.