If you are unable to view our images, please

click here

.

To forward to a friend, please

click here

.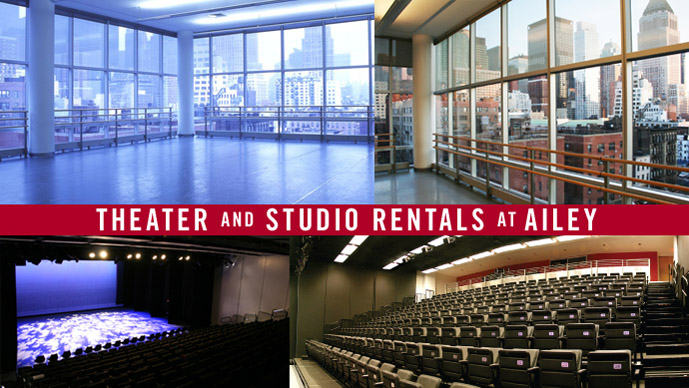 Thank you for your interest in Theater and Studio Rentals at Ailey.

Ailey's home, the Joan Weill Center for Dance, on the corner of Ninth Avenue and 55th Street in Midtown Manhattan has multiple rental spaces for events of every size.

The Ailey Studios
12 climate-controlled studios suitable for rehearsals, auditions and studio showings.

The Ailey Studios are also a spectacular venue for corporate meetings and private receptions.

The Ailey Citigroup Theater
A flexible state-of-the-art performance space that can seat as many as 275 people; it can be used for dance performances, theater productions, screenings, meetings and more.


For more information including rates, images of our spaces and a contact form please visit:






Thank you,
Alaric E. Hahn
Theater Manager/Director of Rentals


ahahn@alvinailey.org

Clockwise from the top left: Photos by ERIC LAIGNEL, ALARIC HAHN, AL CRAWFORD, and ALARIC HAHN.



Copyright © Alvin Ailey Dance Foundation, Inc. All rights reserved.


You are subscribed as @. Update your email address

here

.
Want more relevant Ailey email?

Update your email preferences

.
If you prefer not to receive emails from Alvin Ailey American Dance Theater, simply

unsubscribe here

.
If you need assistance, please contact us at marketing@alvinailey.org or call 212-405-9000.
View our

Privacy Policy

.

Alvin Ailey American Dance Theater | 405 W 55th Street | New York, NY 10019

Share this email with your social network.

 
Facebook