If you cannot view this email please click here
Hi Ryan
Thank you for creating your Free Artist profile on artsphere. Many of you have populated your own story and images and are now live and I must say all your art looks amazing, very talented. 
---
Do you need any help?
We are here to help get your profile live if necessary. Just send us your information via email and we will populate your information on your behalf. 
To help you we will need the following information:
Your avatar image (jpeg) - ideally this would be an image of you 
An image for your background banner ( jpeg ideally 1500px wide)
A short description of you (160 characters) either in an email or word doc.
Your contact details, including website address, email & phone number
Social media links, please supply the full web address (url) of your social; media platforms used.
An image for your directory listing (jpeg)
Let us know what mediums your work with
A selection of art images for your gallery (4-8) jpegs please
Text about you, Tell your story, education and inspiration. email or word doc
And that's it.
Once received we will populate and get your free artist profile live. You will be able to login at a later stage to update whenever you want from anywhere you like.
Hint
When you update your profile you will then show number 1 in the directory listing.
---
Easy DIY
When you first registered you should have received an email with your login details including password. Don't worry if you can't find it as you can reset it by clicking on the recovery password.
Click here to view - https://artsphere.me/free-artist-profile~1008
Either login or click on the My Profile link to view your profile.
Once logged in click on the blue pencils to edit or upload images for that section. There is a step by step tutorial showing the first time when you login on what to do. We will have a how-to video published soon as well. You can update and edit anytime.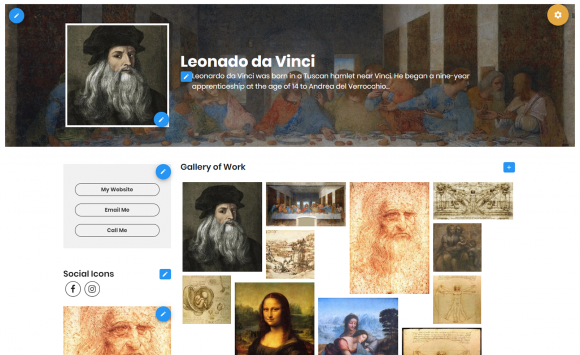 If you like and follows us on Instagram and facebook we can also help promote you by posting your latest photos and works. See links below.
---
Help us share your art
We want to share your art and help promote you so please follow us on Instagram and Facebook. Your welcome to share with your friends as well.
Just click on the icons below and follow us!

Email: hello@artsphere.me