On each new moon, Alisha Norris (

@_hojicha

) will be lending some wisdom on personal practices to deepen our relationship with tarot, the world, and ourselves. ?
Happy New Moon in Scorpio! ??

Alisha (@_hojicha) here, hoping you're well rested, hydrated and energized. Mars and Mercury have stationed direct, we just lived through a historic election, and Mother Nature has been showing off in her autumn finest.

Though the nights grow long, our hearts shine bright.

With Mars no longer in retrograde, you may have noticed a bit more pep in your step- more swagger in that walk. Mars's energy hasn't been completely available to us for the past 28 days- or way too present in the case of Aries/Mars in Aries folks. Thankfully the red planet is back, a bit more wiser and ready to take on injustice and apathy.

Just in time.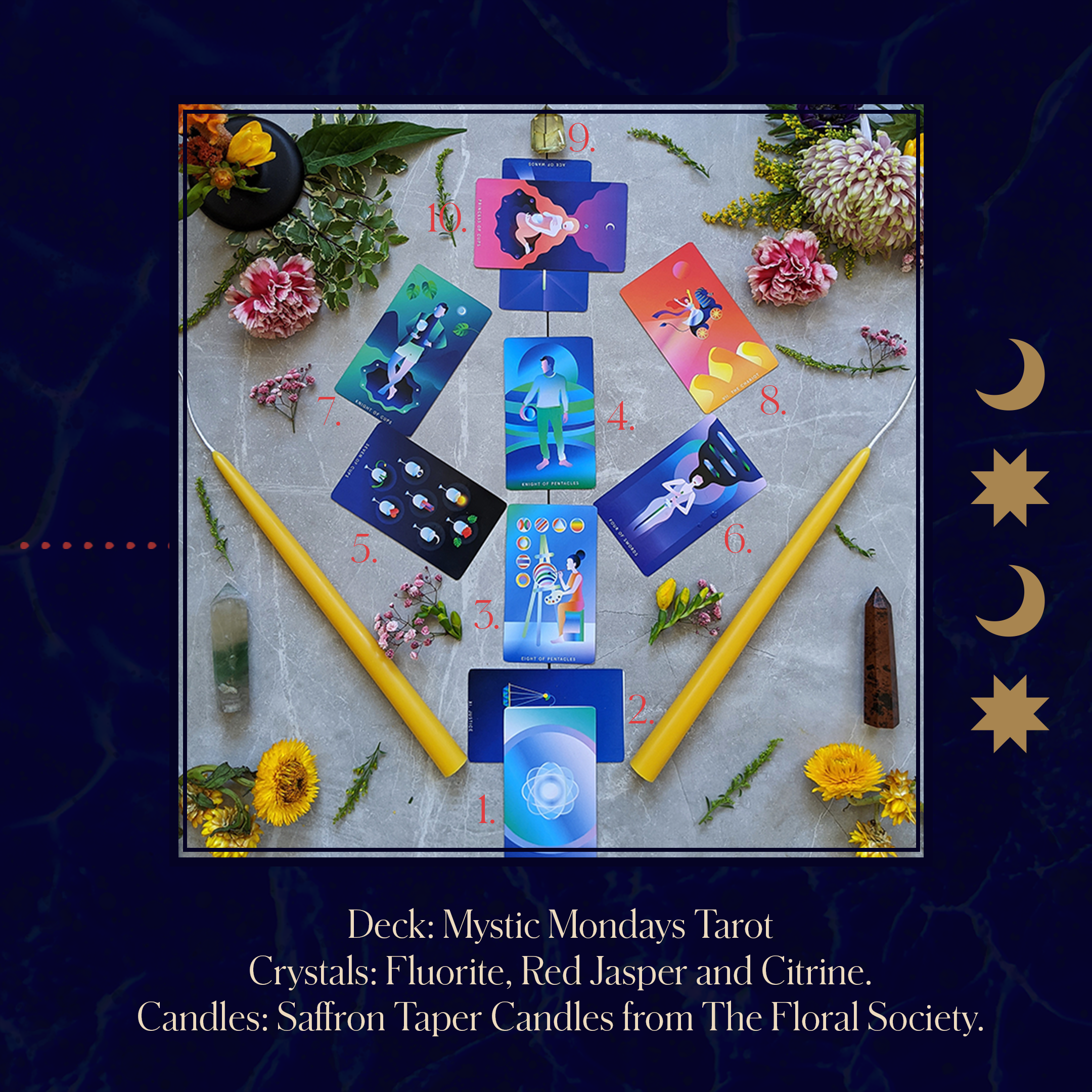 In honor of B I G M A R S E N E R G Y, here's a spread that works with subtle centers, energy (aka Prana, Qi, or life force), and body scanning. In addition to intuition and will, energy plays a vital role within my personal practice. When reading, I ask my clients to center themselves, consider that their tailbone both roots them into the earth while connecting to the spine (the body's ladder) and acknowledge that the rhythm of their heart is ever constant. It's a fantastic method to anchor oneself, as well as a low key way to ask querents to engage in energy work. Tarot is a conversation with our subconscious, as well as an energetic exchange between the querent, practitioner, and the cards. The more one learns to work with that inner force, the deeper one's readings become.
Adapted from The Tantric Dakini Oracle, this is a great spread for healers, bodyworkers, physical therapists, and practicing yogis (especially my Kundalini and Pranayama friends). I love that the spread requires the querent to read and body scan at the same time. Each position corresponds with a subtle center (Chakra) and asks that one considers the intuitive/physical/worldly meaning of each card. Pay attention to what your body tells as you move through the spread. Does the Reversed Ace of Wands at your Throat Center make you feel a bit suffocated? It may be time to work on busting negative self-talk when talking about your life's work. Eight of Pentacles at your Navel? Mastering skills and leveling up in your career are an essential key to your vitality.
I've found that my hands *buzz* after using this spread, let me know if it does the same for you!
A Caveat:
This spread pulls from several traditions, and I'd be remiss if I didn't honor my sources. In the same spirit of being aware of the implications of burning White Sage, I ask that the querent learn more about Tantra and the role of the West within yoga - as well as what we can do to decolonize our practice.


Respect to Tantric Masters, Kabbalists, Yogis, and Mystics that have passed on this knowledge. In this postmodern world may our fight to understand, love, and build discernment honor your work.
? The Tree of Life Spread ?
1. Base (Sexual Center)- Raw Energy, Fire of Transformation,Past Influences, Worldly Concerns
2. Spleen (Health)- Organic Life Rhythms, One's General Constitution, The Present Situation
3. Navel ( Vitality)- One's attitude, generative abilities, 'gut instinct', the place where all energies in the body are refined and turned into gold, how one processes the world.
4. Heart (Emotions)- The all encompassing power of love.
5- 8.
Heart Influences ( Emotive Influences)- Interpret these cards as 'joys' in their upright position and 'poisons' in reverse.
9. Throat ( Communication and Dreams)- The creative imagination, the vibrational force that keeps all things solid and named, one's psychic and physical environment, speech
10. Head (Intellect)- The resolution of energies invoked in the reading, the outcome.
Deck:
Mystic Mondays Tarot
from the supremely talented Grace Duong. MM is a gorgeous, easy to understand deck that's a favorite among new and seasoned readers. As someone who owns 3 Nagels and considers The Hunger vital viewing- it's an unexpected pleasure to work with.
Crystals:
Fluorite for assimilating information and straightening one's thoughts. Red Jasper for healing, Mars, and defense (Red Jasper sends negativity back to its original sender). Citrine for awareness, the Sun, and a good night's sleep.
Candles:
Saffron Taper Candles
from The Floral Society. Yellow candles can aid in calling in clarity and cheerfulness, as well as stimulating one's inner power and Solar Plexus.
Going Deeper:
Research Pranayama and read The Psychology of Kundalini Yoga by Jung. Visit a bodyworker or massage therapist (while wearing a mask of course) before the year is out. If any of this work makes you feel uncomfortable, blocked, or anxious- don't be afraid to step away from the reading for a phone call/glass of water/a good cry. Never force energy work, you can come back when you're ready.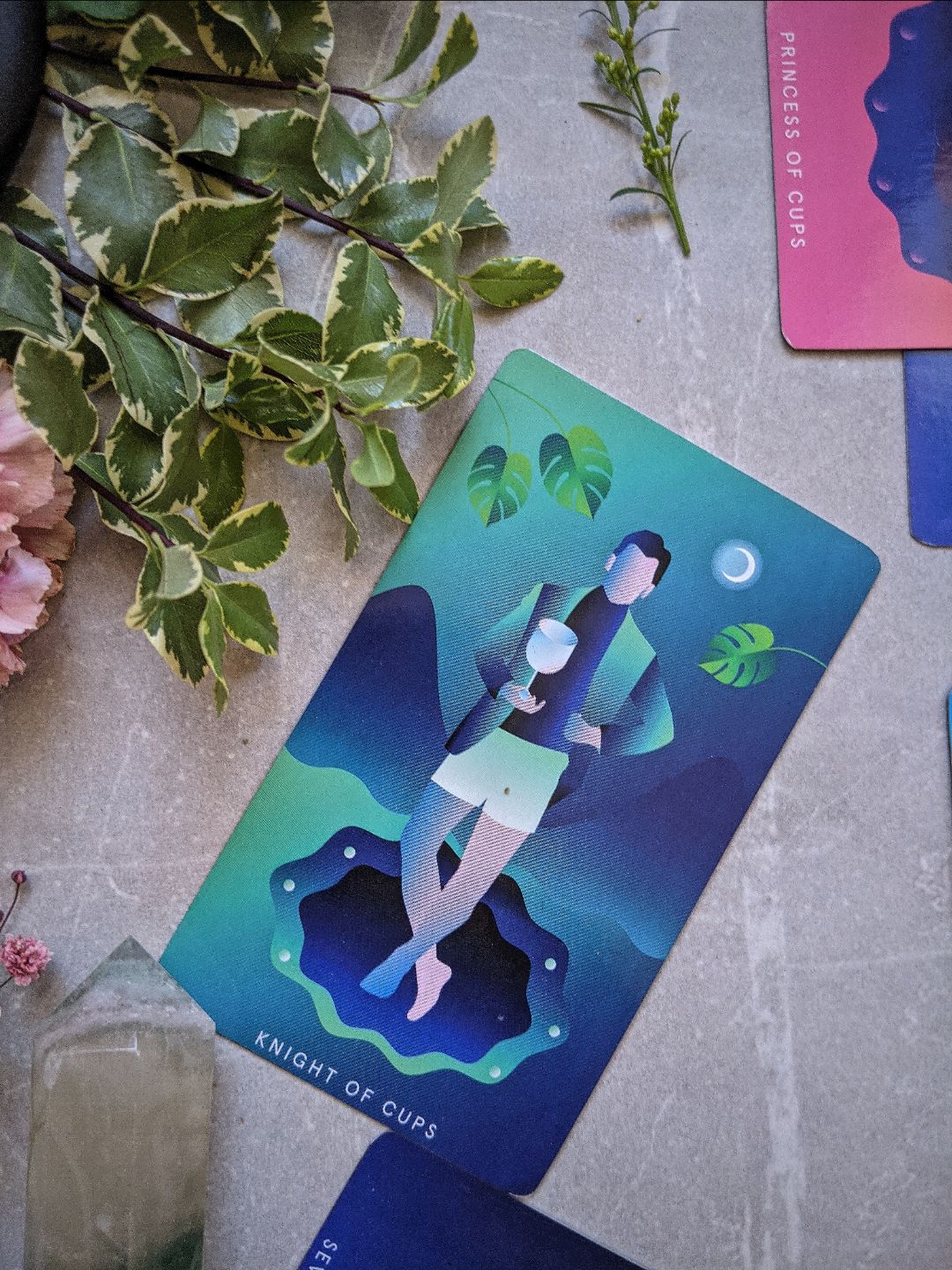 Til Next Time ???