Letter from the Managing Editor:
This month, as always, our authors offer advice on subjects that will help you make good use of your time during our universal quarantine. I hope that whether you are working at home under quarantine, or at your workplace keeping your "social distance", you continue to be safe and Covid-19 free. Please let me know any coping techniques you''ve developed that might make an Article our readers might be interested in reading. Let me hear from you!
Be sure to follow @BPTrends on Twitter and join the BPTrends LinkedIn company page.
Carolyn Potts
Managing Editor
BPTrends
---
New Features
---
Polls
Please click here to participate in the BPTrends June poll.

---
Columns
Harmon on BPM: Thinking about Post Pandemic Processes
| | |
| --- | --- |
| | Our May survey revealed that 17% of our readers are still working at their normal place of employment. At the same time about 60% of our readers are still working, but working at home. Others have been laid off. Paul observes that this is a time of business disruption from which we''re not likely to recover for a long time. So, what might be the long lasting effects of this disruption? |
Performance Architecture: Where Geary Rummler''s Work and Business Process Intersect
| | |
| --- | --- |
| | Roger Addison and Carol Haig review the major contributions made by Geary Rummler to the work of, business process specialists, instructional designers and others who seek to help organizations meet and exceed performance goals. Read their Column to learn more about Geary and his long lasting impact on business processes. |
Digital Transformation: Turning Data Into Value
| | |
| --- | --- |
| | Mike Rosen asks - "So, what is the key to turning data into value?" Mike''s answer - A Digital Transformation Paradigm. Read his Column for a comprehensive description of a paradigm that he believes will prove very valuable in making better use of your data. |
---
Articles
Front Line Leadership: Get Results from your Team When No One is in The Office
Mark believes that despite the strangeness of quarantine, you still have the opportunity to lead your team effectively and provides five useful suggestions to accomplish this goal.
Overcoming Challenges Involved in Remote Work
Lewis Robinson also has some suggestions for facing the challenges of working from home. Here are Lewis'' tips for working remotely, which he feels will help you and your employees to overcome them.
---
Calendar of Events
Building Business Capabilities 2020, October 19-23, 2020, Las Vegas Nevada
IRM UK, Business Process Management Conference, October 26-29, 2020, London, England
Education and Training
BPTA Professional Certificate Program - 5 Days
BPTA Advanced Professional Certificate Program - 5 Days
BPTA BPM Enterprise Certificate Program - 5 Days
For Public Training Schedules and/or for On-Site Training and/or Consulting Dates, please contact the following:
ES Consulting, Saudi Arabia/Arab States - Abdulrahman AlForaih at a.alforaih@esconsulting.com.sa
Qualisoft, Norway/Scandinavia - Tore Rasmussen at Tore.rasmussen@qualisoft.no
Business Process Trends Associates - USA, Other, & General Questions - Celia Wolf @cwolf@bptrends.com
You''re Invited!
Join the BPTrends Community

---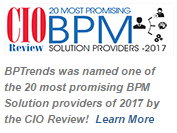 ---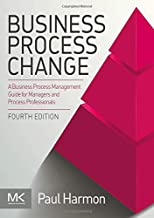 ---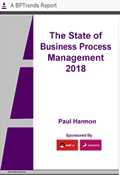 ---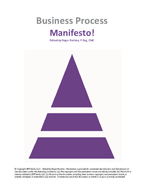 ---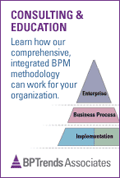 ---

---