Restaurant-Style Squeeze Handle for Kitchen Faucet
Commercial kitchens prefer a "squeeze" handle faucet for easy operation and powering through mountains of dishes. This pro-style convenience is now available with every pull down faucet in our kitchen line. Operate the spout with one hand to generate a powerful spray. Release the handle for a smooth aerated flow.
Single Handle Tub Fillers
Most tub fillers run at 4 to 6 gallons per minute and can take ten painfully slow minutes to fill a 42 gallon tub. At 10 GPM, our high flow tub fillers will do the job in just under 4 minutes; that''s faster than you can say "where''s my spa-like relaxation?" Customize your tub filler with your choice of handle options to create the tub filler of your dreams.
D Street - 52/53 Series
Three spout styles, two handle options, three choices of custom inserts, 28 luxury finishes: that''s over 500 distinct faucets in one series! A contemporary cousin to our popular Descanso series, D Street offers knurled, carbon fiber, or smooth details for each handle.
Libretto - E5 Series
Our new Libretto series is the latest addition to our popular European-inspired "E" collection. The rectangular meets the cylindrical in this innovative twist on the contemporary single lever faucet. Soft edges add a warm touch to the sleek modern design.
Adjustable Bracket with Shower Outlet
Style meets innovative simplicity. Our all new adjustable handshower bracket is now available with an integrated handshower outlet. This bracket is available in 7 styles to match any of our bathroom series.
Rain on me: Showerhead Edition
By Noel Lawlor, Architecture and Design Liason
---
I am often asked for "showerhead" recommendations, but there isn't just ONE correct answer.

Sometimes, we're seeking a quick refreshing shower under a high-pressure showerhead to rinse away sleepies from our eyes and start the day with a spring in our step. There are also times we crave to stand under a rain-head with eyes closed imagining we're somewhere tropical as we wash away the day's grind. Maybe we simply want to grab the hand-shower and give the dog a good scrub!

Creating a shower design with an assortment of experiences to fulfill each of your client's specific preferences can only be understood through probing conversations. A client's needs at 7am on a Tuesday morning are different from their needs on a Friday night at 7pm. Educating your clients on the various configurations and product options will go a long way to satisfying their bathing needs. And they'll love you forever.

But what about the budget? Homeowners often think the "luxurious" experiences come with a luxury price tab but designing a spa-like shower with two features rather than one, or with three features rather than two is a relatively small additional cost for a significantly better showering experiences.

A fabulous shower that replenishes body and mind is an investment worth making.let's talk about it more, I can be reached at

noel@calfaucets.com

or on

Instagram

.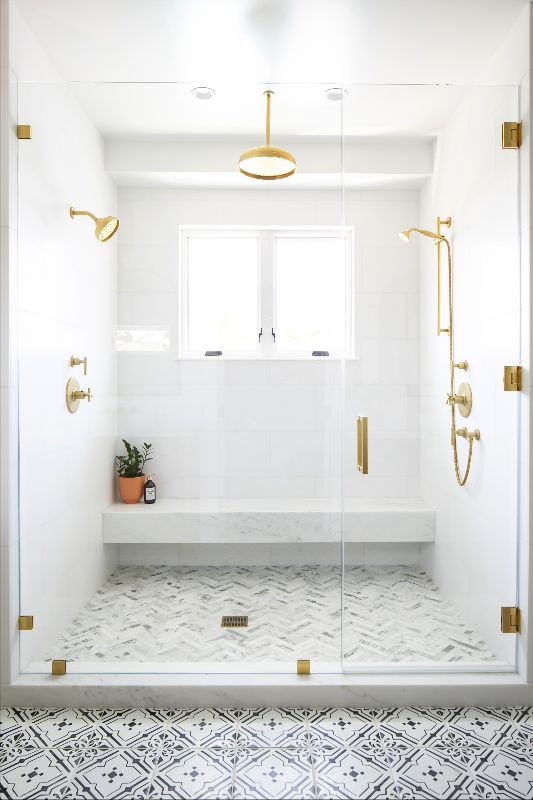 Image: Tiburon Thermostatic Shower System in Polished Gold PVD. Designed by @shopskout and Photo by @ryangarvin