Professional Beauty Worldwide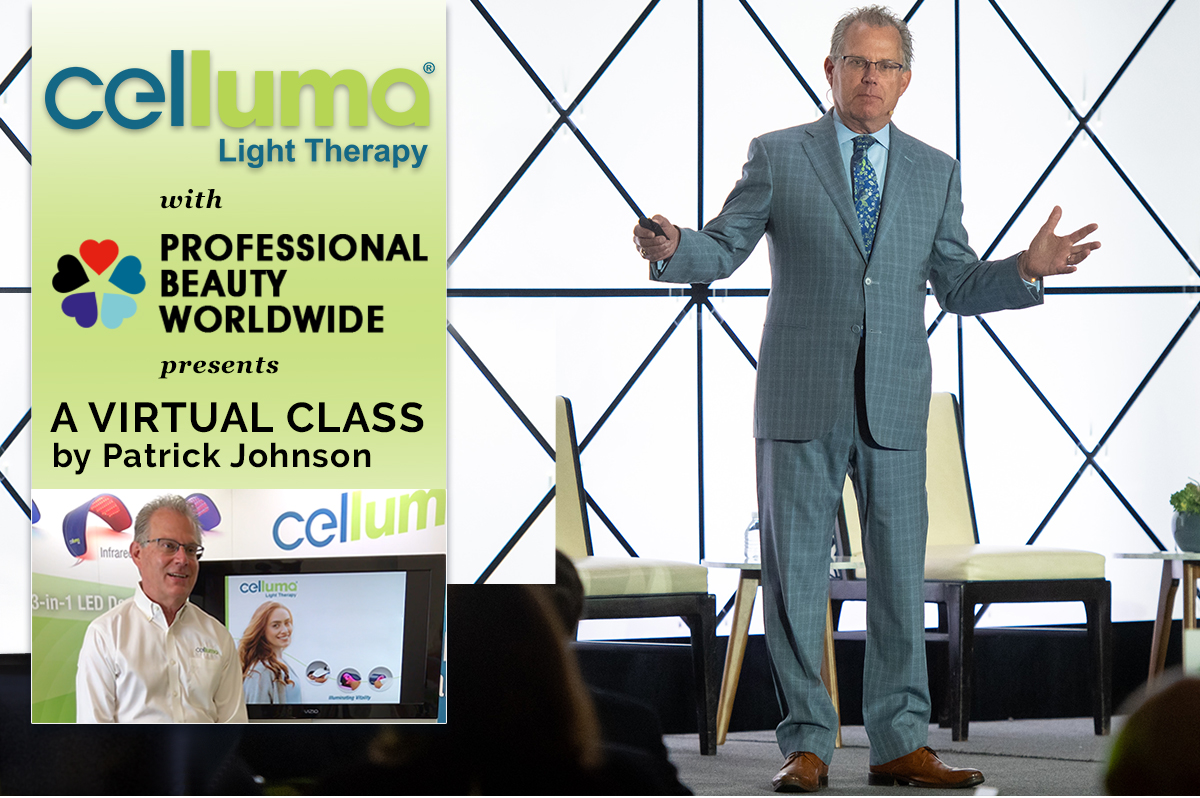 LED MYTH BUSTERS:
Demystifying the Science of Light Therapy
If you''ve never attended one of Patrick Johnson''s classes, you are in for a special treat! Patrick is the CEO & inventor of the award-winning Celluma Light Therapy Series. He will be presenting his new lecture at Professional Beauty Worldwide, an educational aesthetics forum.
DATE & TIME:
Tuesday, 8 September 2020 at 4 PM GMT
SPEAKER:
Patrick Johnson, MBA, CEO
CLASS SYNOPSIS:
There are so many questions and myths surrounding the science and benefits of LED light therapy that it can be difficult to know where to start! If you have ever wondered about any, or all, of the following questions, then you won't want to miss this exciting Webinar:
What's the difference between near-infrared, red and blue light?
What are wavelengths and why are they important?
How to use LED in combination treatments?
How to position LED for superior results?
What about LED for hyperpigmentation?
What does "power" really mean?
Do Medical Credentials matter?
ATTEND PROFESSIONAL BEAUTY WORLDWIDE
REGISTER NOW
---
ABOUT PATRICK JOHNSON
---
| | | |
| --- | --- | --- |
| | | Mr. Johnson is the CEO & President of BioPhotas Inc., and the inventor of the award-winning Celluma SERIES of Light Therapy devices. With an extensive background in the medical device industry, Patrick saw the potential for bringing the significant therapeutic benefits of Low-Level Light Therapy affordably to the masses, leading to the founding of BioPhotas. Prior to BioPhotas, his leadership experience includes 10 years with Pro-Dex, Inc., a publicly held medical device manufacturer, serving in the roles of Chief Business Development Officer, CEO and President, and Board Member. Mr. Johnson left Pro-Dex in early 2010 to start-up a humanitarian relief organization, The World Bed Project. The charter of this organization was to build strategic alliances with government, NGOs, corporations and individuals to bring badly needed relief to Haiti in the aftermath of the earthquake. Mr. Johnson now speaks internationally and writes extensively on the science and benefits of Low-Level Light Therapy. |
Email info@celluma.com