We're hosting two more back-to-school giveaways for Black students this month.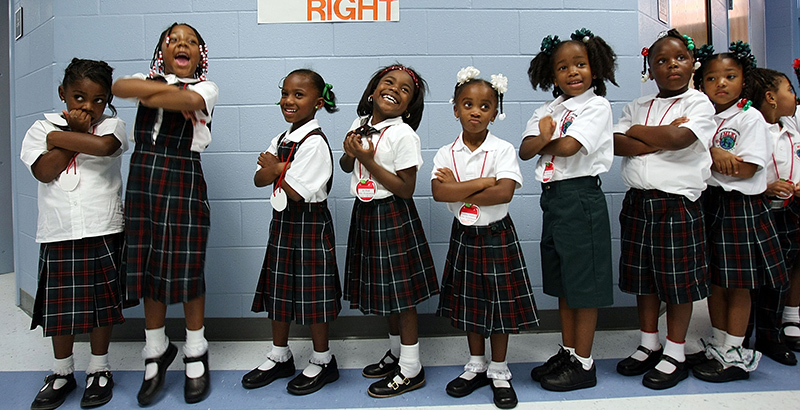 Will you chip in to show Black students and teachers you care?

CHIP IN $10
Eugene,
This month, our Color of Change leaders are hosting back-to-school drives across the country because Black students deserve to walk into school armed with the supplies they need for success.
Our squad members have been working hard in cities like Orlando, Detroit, Flint, New Orleans, Philadelphia, Tampa and more to help buy the materials that teachers who work in predominantly Black schools are so often forced to pay for out-of-pocket with their own salaries1. Yesterday, our Orlando squad hosted our third back to school giveaway of the season. But we still have two giveaways left! Will you donate $10 to help fund 1 backpack full of school supplies for a Black student in Flint?
Studies show that when students have the school supplies they need, "their grades and classroom behavior improve and they become more excited about school and learning."2 However, in a new report from EdBuild, it was found that "school districts where the majority of students enrolled are students of color receive $23 billion less in education funding than predominantly white school districts, despite serving the same number of students."3
Black students and teachers are fighting a widening racial disparity gap in education funding. Let's show them that their community is willing to show up for them.
This means one thing: Black students suffer disproportionately when it comes to having the basic things they need to receive a quality education. Our squad leaders have been fighting for the structural changes we need within the education system to ensure it supports our communities the way we know it can and should. But they also recognize that we have a responsibility today to show Black students and teachers that they don't have to do it all alone. By organizing these backpack and supply giveaways, we have the chance to prove to Black kids that their communities support and care about their dignity in education.
With your donation we will be able to give away:
Backpacks
Pens, pencils, and pencil pouches
Notebooks, highlighters, and binders
We're fighting for equal funding, but right now our students deserve the support needed to fully participate in the classroom. These giveaways are important because they allow teachers who care about their students to ensure that they have the things they need to feel good about learning. We do this so that Black students can walk into school with their heads held high, knowing that they have the same right to a quality education as their classmates and peers. 
We're hosting two more back to school events in the next month for OUR students. Will you chip in $10 for one backpack of supplies (or $20 for 2) to show Black students that you care?
Until justice is real,
—Kwesi, Rashad, Arisha, Shannon, Dominique, Imani, Sonya, and the rest of the Color of Change team
References:

"94 Percent of U.S. Teachers Spend Their Own Money on School Supplies, Survey Finds," New York Times, May 16, 2018,

https://act.colorofchange.org/go/136621?t=10&akid=34743%2E4804695%2EnQ8JNo

.

"School supply donations have a positive impact on student's ability to learn," WSOC-TV.com, Jul 25, 2017,

https://act.colorofchange.org/go/155087?t=12&akid=34743%2E4804695%2EnQ8JNo

"Non-White School Districts Get $23 Billion Less Funding Than White Ones," Pacific Standard Magazine, Feb 26, 2019,

https://act.colorofchange.org/go/121130?t=14&akid=34743%2E4804695%2EnQ8JNo

.

---
Color Of Change is building a movement to elevate the voices of Black folks and our allies, and win real social and political change. Help keep our movement strong.
If you're absolutely sure you don't want to hear from Color Of Change again,
click here
to unsubscribe.