Hi Friend,
We wanted to share some recent news articles with you that feature the Culinary Union.
Click on the link to read the full article.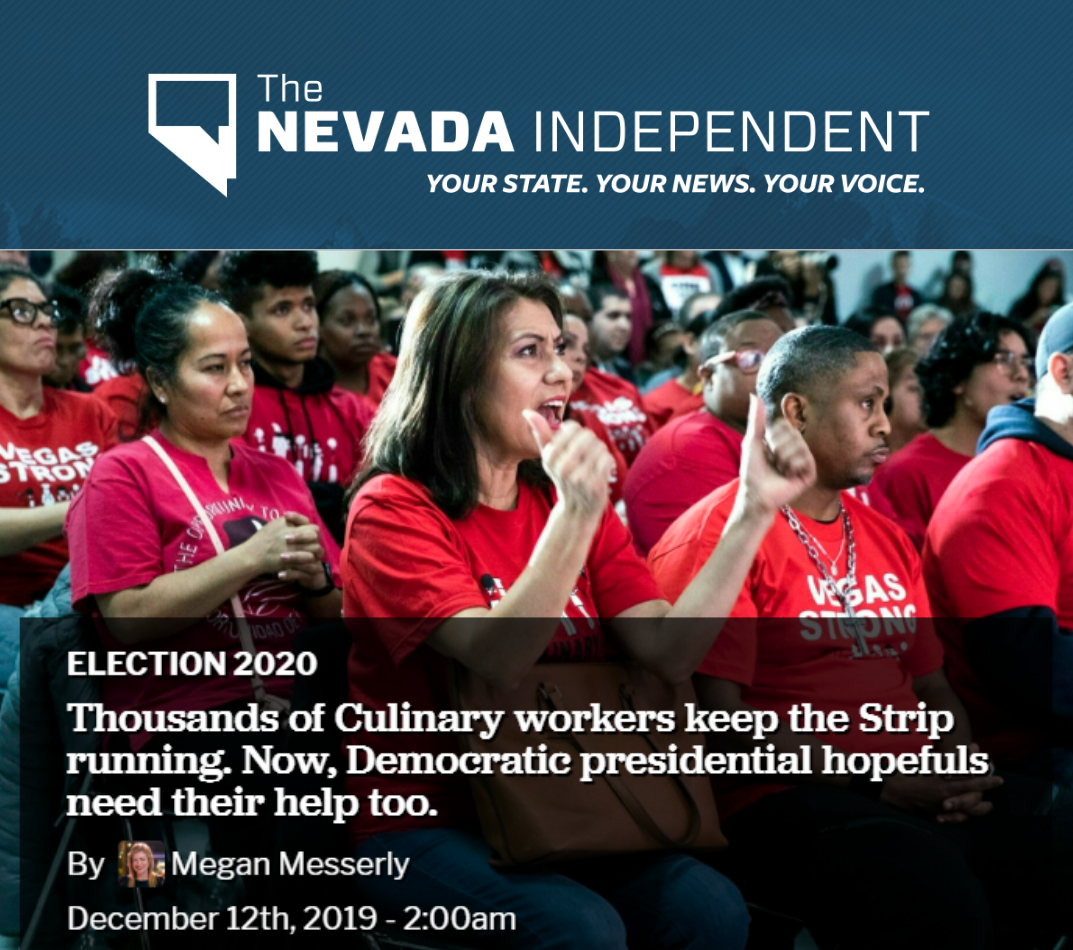 Dec 12-THE NV INDEPENDENT: Thousands of Culinary workers keep the Strip running. Now, Democratic presidential hopefuls need their help too.
If the Strip is the heart of Las Vegas, the members of the Culinary Union are the blood that flows in its veins. The union's 60,000 members hail from 178 countries, speak more than 40 different languages and are predominantly women.
They're guest room attendants, cocktail and food servers, porters, bellmen, cooks, bartenders, laundry and kitchen workers, and they're also known for their organizing prowess. They helped Harry Reid win a close U.S. Senate race in 2010, and, though the union stayed officially neutral ahead of Nevada's 2016 Democratic presidential caucus, attendees of caucus sites on the Las Vegas Strip — designed to reach casino workers — overwhelmingly broke for Hillary Clinton, helping buoy her to victory in the state. Now, they're preparing to potentially make waves in the 2020 Democratic presidential primary. The president of the union's national affiliate, UNITE HERE, said the union hopes to endorse on a national level ahead of the Feb. 22 caucus in Nevada, where the union's support stands to make the biggest dent.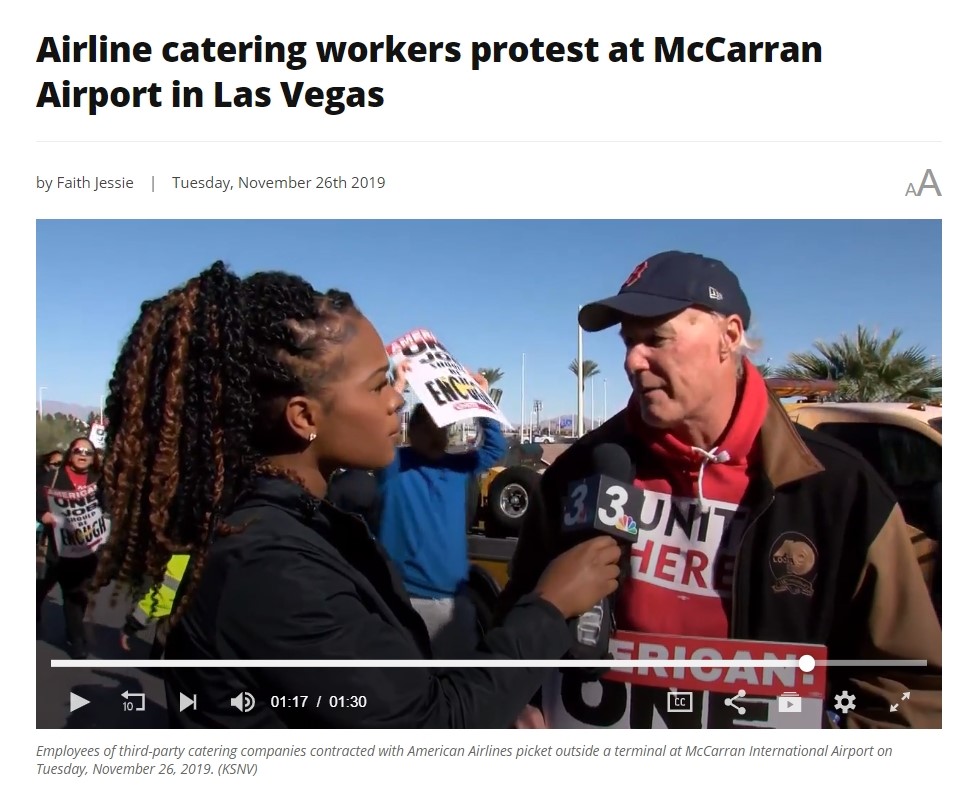 Nov 26- 3 NEWS LAS VEGAS: Airline catering workers protest at McCarran Airport in Las Vegas  
Airline catering workers joined Culinary Union members in protest Tuesday morning at McCarran International Airport, calling on American Airlines to provide better wages and affordable health care. According to the Culinary Union, the average wage of an airline catering worker at McCarran is $12.41, and less than 36% of workers had company health insurance in 2018. The union also argues that American Airlines reported an annual profit of $1.9 billion in 2018, and those working for them should benefit.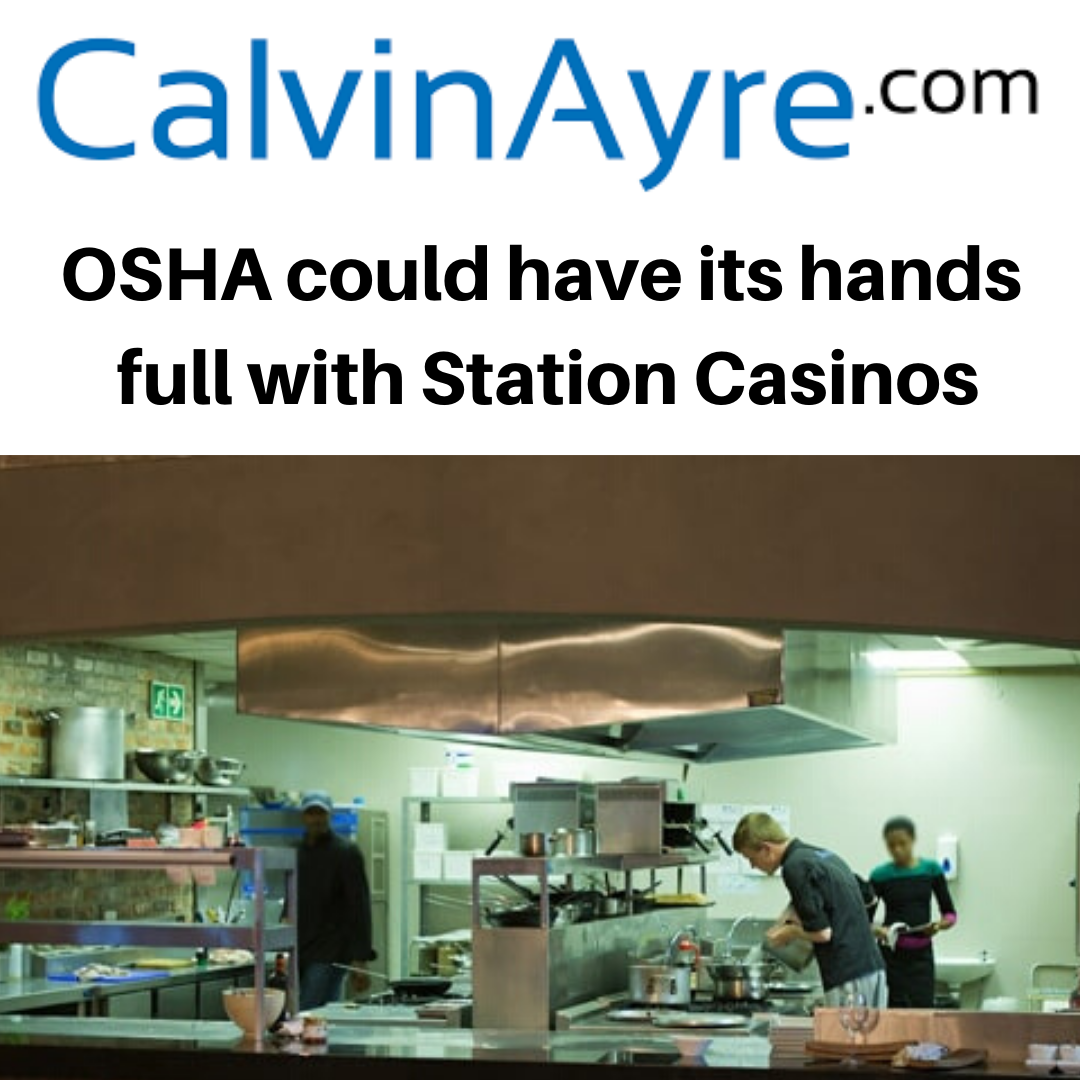 Oct 31- CALVIN AYRE: OSHA could have its hands full with Station Casinos
The report, "Gambling With Worker Safety and Health: Hazard Assessment in the Casino Hotel Industry," was prepared by researchers from George Washington University and California State University, Long Beach. It had been prepared in conjunction with the Culinary Workers Union, Local 226, which represents many casino and hospitality properties around Vegas, and which is part of the UNITE HERE collection of unions. By interviewing a number of workers at various properties owned by casinos, the researchers were able to identify several areas where Station could apparently be failing in its obligations to provide a safe workplace. For example, housekeepers identified exposure to "ergonomic, biological, and physical hazards" as being present, and some indicated that they were not able to take a lunch break out of fear of being disciplined by managers.
In Solidarity,
Geoconda Argüello-Kline, Secretary-Treasurer
Ted Pappageorge, President

---
---
Queremos compartir con usted algunos reportajes recientes que destacan a la Unión Culinaria. Pulse sobre el enlace para ver el reportaje completo.

Dic 12-THE NV INDEPENDENT: Miles de trabajadores de la Culinaria mantienen el Strip en marcha. Ahora, los aspirantes Demócratas a la presidencia necesitan su ayuda también.
Si el Strip es el corazón de Las Vegas, los afiliados del sindicato la Culinaria son la sangre que corre por sus venas. Los 60 mil miembros del sindicato son de 178 países, hablan más de 40 idiomas distintos y son predominantemente mujeres. Son recamareras, meseros y meseras de cocteles y alimentos, empleados de limpieza de los casinos, botones, cocineros, cantineros, empleados de lavandería y de cocina, y también se les conoce por su destreza en sindicalización. Le ayudaron a Harry Reid a ganar una reñida contienda por un puesto en el Senado de EE.UU. en el 2010; y, aunque la unión se mantuvo oficialmente neutral antes de las reuniones electorales Demócratas del 2016 en Nevada, los concurrentes a dichas reuniones en el Strip de Las Vegas — las cuales fueron diseñadas para estar al alcance de los trabajadores de los casinos — se lanzaron abrumadoramente hacia Hillary Clinton, ayudando a elevarla a la victoria en ese Estado. Ahora, se están preparando para posiblemente causar sensación en las primarias presidenciales Demócratas del 2020. El presidente del afiliado nacional de este gremio, que es UNITE HERE, dijo que la unión espera respaldar a un candidato(a) a nivel nacional antes de las reuniones electorales en Nevada del 22 de febrero, donde el apoyo de la unión pueda tener el mayor impacto.
Nov 26- 3 NEWS LAS VEGAS: Los trabajadores del servicio de comidas de las aerolíneas protestan en el aeropuerto McCarran de Las Vegas  
Los trabajadores del servicio de comidas de las aerolíneas se unieron a los miembros de la Unión Culinaria en protesta durante la mañana del martes en el aeropuerto internacional McCarran, pidiéndole a American Airlines que brinde mejores sueldos y un seguro médico económico. De acuerdo a la Unión Culinaria, en McCarran, un trabajador del servicio de comidas con las aerolíneas gana un promedio de $12.41, y menos del 36% de ellos tuvieron el seguro médico que brinda la compañía en el 2018. El sindicato también alega que American Airlines reportó una ganancia anual de $1.9 mil millones de dólares para el 2018, y que aquellas personas que trabajan con dicha empresa deberían beneficiarse de ello.
Oct 31- CALVIN AYRE: OSHA podría tener mucho trabajo con Station Casinos
El informe, "Gambling With Worker Safety and Health: Hazard Assessment in the Casino Hotel Industry," ("Jugársela con la seguridad y salud del trabajador: Evaluación del peligro en la industria de casinos-hoteles") fue preparado por investigadores de las universidades George Washington University y California State University, Long Beach. Dicho informe había sido preparado en colaboración con la Unión de Trabajadores Culinarios, Local 226, la cual representa a muchas propiedades con hoteles y casinos en Las Vegas y la cual forma parte del conjunto de sindicatos de UNITE HERE. Al entrevistar a un número de trabajadores en varias propiedades que pertenecen a los casinos, los investigadores pudieron identificar varias áreas donde la compañía Station podría, por lo visto, no estar cumpliendo con sus obligaciones de brindar un lugar de trabajo seguro. Por ejemplo, las recamareras identificaron la presencia de exposición a "riesgos ergonómicos, biológicos, y físicos", y algunas indicaron que no podían tomarse un descanso para comer por temor a ser sancionadas por los gerentes.