Having trouble reading this email?

View it in your browser.
Thank you for downloading the managed backup brochure. Data Foundry understands?data loss due to system crashes or natural disasters is a huge risk, and some companies cannot survive data loss catastrophes. That is why?we have partnered with Commvault, a 6-time Gartner Magic Quadrant leader in Data Center Backup and Recovery, to offer our customers one of the best backup services in the industry.?In the event of a disaster or interruption, you can restore terabytes of data within minutes using our Managed Backup service.?
Backup solutions have evolved significantly since the days when full and differential backup were the only options.?If you are not familiar with your backup options, or you aren''t sure what is best for your company, check out our blog post on different types of backup for some insight.?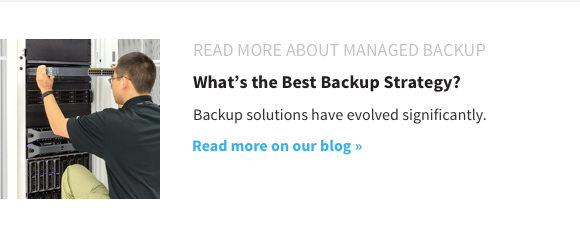 Sincerely,?
Data Foundry Team
4100 Smith School Rd | Austin, TX | 78744 | 888.839.2794
This email was sent to: @
Click here to update your email preferences.
? 2018 Data Foundry, Inc. All rights reserved.