Can't view this email?

View Online

This Month's Headlines

Questions & Answers

Tech Tip: Personalize your Windows 10 Desktop 

Performance Tip: Changing Quick Access Menu Opening Page

Product Spotlight: FastMove

WebMinds Products

Easy Duplicate Finder

Duplicate Photo Cleaner

Easy File Shredder

DropShots

Fastmove

FileCleaner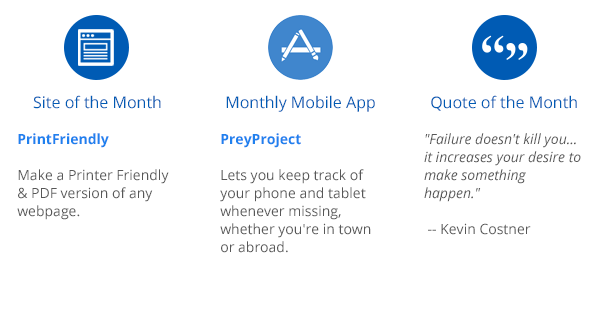 | | |
| --- | --- |
| | Questions and Answers |
Q: My Dell XPS laptop with Windows 10 has a stubborn problem that is now causing blue screens, super slow performance and frequent freeze ups. All this forces me to reboot at least once or twice a day. When I called Dell support and ran some tests, the tech suggested that I reinstall Windows 10, but I know that can be tricky and I'd rather not risk losing our important files and photos and our applications. Is there a way I safely identify and fix this issue, plus improve performance without having to reinstall Windows 10? BTW, I've run Norton's anti-virus and it says my Dell is protected.

- Tito R., Williamsburg, VA 
A: Whether you need to repair Windows, find and remove a hidden virus or malware, fix corrupt files or improve your PC performance, we recommend a free tool trusted by millions of users since 2007 called Windows Repair Tool. This simple yet powerful application saves the hassle and risk of reinstalling Windows. Windows Repair Tool has a free system scan that will quickly and safely test your system for all sorts of problems. Next, Windows Repair Tool will actually repair your damaged PC with its patented technology that restores and repairs your Windows OS with a robust database of replacement files. Windows Repair Tool's unique repair process actually reverses the damage done to your Windows operating system

>> Download Windows Repair Tool
Q: After my daughter's iPhone recently crashed, I discovered the main cause was that she had 5000+ photos and videos eating up her memory. After looking through a couple hundred photos I noticed she has many duplicates or similar photos. I'm looking for the best way to detect, manage and remove duplicates photos from a phone these days. Any suggestions for such a process or tool? Thanks...

– Mitch H. Boulder, CO
A: This is a very common problem. Many users don't realize how many duplicate or similar photos they have on their phone until it's too late. We recommend Duplicate Photo Cleaner. This useful tool is the only app for managing duplicate and similar photos you'll ever need. The latest version of Duplicate Photo Cleaner now works with your iPhone or Android phone. Just connect your phone to your PC and your ready to instantly find and remove duplicates that eat up your valuable memory and cause performance issues. It looks for similarities in your images and easily finds duplicate photos. Duplicate Photo Cleaner also detects photos of the same subject, resized pictures, and edited images. You can try it for free too.  

>> Download Duplicate Photo Cleaner
Personalize your Windows 10 Desktop 

Windows 10 lets you personalize your desktop more thoroughly than before. Head to Start > Settings > Personalization > Colors, and choose Show color on taskbar and Start Menu. You can also tell it to automatically pick a color from your wallpaper and apply it underneath icons of open apps, and you can remove the Start Menu's translucent option.
Changing Quick Access Menu Opening Page

In Windows 10, File Explorer opens with Quick Access selected. Old-school Windows users might prefer to start in This PC (previously known as My Computer), which includes the six standard data folders in your user profile as well as any local drives and removable media such as USB drives.  This can be changed. On the ribbon, open the View Tab, click Options, Change Folder and Search Options, and there you can choose either Quick Access or "This PC". Choose This PC.  Click APPLY. File Explorer will open to This PC.

>> Perform a PC performance scan now!
FastMove - Transfer Data Between PCs Simply & Safely 

Whether you're transferring data between computers sharing the same OS version, moving files and settings from a Windows 7 to a Windows 10 PC, or migrating from a 32-bit to a 64-bit system, FastMove is here to do the job.

>> Try FastMove Today!
WebMinds, Inc. 8540 Dayton Avenue Fort Myers, FL 33907
Privacy Policy

|

Contact Us