Hi there,
Alex here from FeedPress. This email is to kickoff your 14 day trial. Below I''ve included some steps to follow so you can add your first feed as quickly as possible. You should be able to see some subscriber analytics within 24 hours of adding a feed.
Since you''re just getting started, this email will be a bit long, but please make sure to read it. I promise the info included will help you get up and running quicker.
Just to let you know, as you progress through your trial over the course of the week, you''ll be receiving a few follow up emails with some additional guidelines to keep you on track.
Migrate from FeedBurner
If you''re coming from FeedBurner, turns out, we have a super easy automatic migration path for you. On your feed dashboard, just click Migrate From FeedBurner and you''ll be on your way within a minute (as seen below).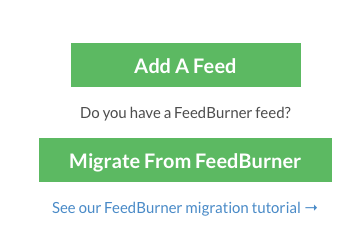 FeedPress can import all feeds you have in FeedBurner as well as email subscribers. The transition will happen smoothly without any need for your readers or listeners to change the feed they originally subscribed to.
Feed Settings
Depending on whether you have a blog or podcast feed, you''ll find preferences for these as well as click/open link tracking, truncating text, artwork, and more.''

Podcast Analytics and Hosting
You can access podcast episode download statistics, update iTunes tags, and more. For those of you that need a home for your podcasts, you can also enable hosting on any feed for just $8/month (billed annually). To upload your first episode today, go to Settings > Your files.
Get The FeedPress WordPress Plugin
If you''re on WordPress, make sure to grab our plugin. This will allow you to easily redirect your original feed to FeedPress and access a few other setup details without leaving that environment. Redirecting your feed is important so that FeedPress can see the subscriber traffic and provide analytics..
Redirecting Your Feed to FeedPress
If you are not using WordPress and need help redirecting your original feed to FeedPress, check out our URL rewrite rule examples for both Apache and NGINX.
Retain Control Over Your Branding: Setup Custom Hostnames
Although we provide you with a feedpress.me feed, you can continue to use your own domain name with FeedPress. Registering your domain with us provides you with a white labelled feed service (meaning FeedPress never appears in your feed).
Head over to our hostname tutorial to get started!
Have A Question? Try Our Support Resources
We encourage you to visit our support knowledge base. It''s chock full of great tutorials and contains answers to common FAQs, such as Squarespace and Tumblr compatibility (hint: they work).
Let''s Get Social: Stay in Touch!
If you need assistance, we''re here to help. You can reach us by using the support contact form in your account, tweet us @FeedPress, or comment on Facebook.
--
Alex Knight
FeedPress Product Manager
https://feed.press