Gun Rights and Liberty
At Free To Choose® Network, we're working tirelessly to bring our newest series, A More or Less Perfect Union, A Personal Exploration by Judge Douglas Ginsburg, to audiences around the nation. In conjunction with the featured section on the 2nd Amendment from the series, we are working on confirming several events in local communities to help promote the films. We'll also be helping to promote a series of events specifically geared toward spreading the message that the 2nd Amendment is a friend to all.

At Free To Choose Network, we exercise 1st Amendment freedom every day through enriching

film projects

and thought-provoking

educational products

used by educators worldwide. In support of this, we'd like to invite you to help us to continue to bring these messages to people all over the globe. If you'd like to support our mission to advance human well-being by building support for personal, economic, and political freedom, you can support us by

donating on our site today

.

The right to protect oneself from violence is as old as human existence. All our fellow citizens should agree with that statement. Using that as our theme, we ask you to join us in a nationwide focus on the use of guns for self-protection. Free To Choose Media has produced a public TV mini-series on the U.S. Constitution titled A More or Less Perfect Union. PBS will transmit the series to its member stations on Friday, January 24th, 2020.

The program includes a powerful segment on the use of guns for self-protection featuring Pink Pistols Gun Clubs.

Starting Saturday, January 25th, 2020, and through the following week, we want thousands of gun owners to help us create a massive nationwide "Town Hall" meeting. Gatherings at gun clubs, community centers, churches, and in private homes.


The goal is to have these Town Hall type meetings throughout the nation, with those of you who support the 2nd Amendment inviting a neighbor to join you:
To view the video segment filmed at a Pink Pistols gun club
Share a message from Alan Gottlieb, founder of the 2nd Amendment Foundation
Discuss the basics of safe use of guns for self-protection
Learn about and have the opportunity to shoot the black powder muskets and rifles used in the revolutionary war.
Local public TV stations may schedule A More or Less Perfect Union any time after January 24th, 2020, so we will provide a website source where you can find when your local station will carry the entire series. You'll find the series entertaining and an important message regarding the many freedoms we enjoy. We'll also explain how you can invite your local public TV station to participate in your event and how you can help promote the local broadcast.
Spread the Second Amendment Message
To help carry the message further, we've designed a "Gun Rights Equality/Our Second Amendment" T-shirt combining the Betsy Ross flag with today's Old Glory, emphasizing our ties to the nation and its founding.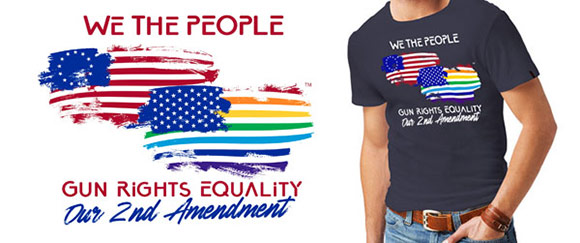 Please take the time to

go here and order yours today

. The price is $25. Starting January 25th, 2020, our fellow citizens need to see these wherever they go. They need to see thousands and thousands and thousands of people making the simple statement, the 2nd Amendment is EVERYONE'S FRIEND, giving law-abiding citizens the right to protect the lives of themselves and their families when first responders are potentially too late on the scene.

Alan and I thank you for joining us in this effort.

Bob Chitester,
Chairman, Free To Choose Network

P.S. - A portion of the profits from the sales of the Gun Rights Equality T-Shirts goes to the

Second Amendment Foundation

, which promotes understanding about our Constitutional heritage to own and possess firearms privately. They have many educational and legal action programs designed to ensure the 2nd Amendment remains one of our cherished freedoms.


This email was sent to @. If you wish to have your friends, family or colleagues receive our periodic email alerts, please reply to this email with their full names and email addresses.

| Unsubscribe | Contact Us |
• 2002 Filmore Ave • Erie, PA 16506 •
• Phone: (814) 833-7410 • Fax: (814) 833-7415 •
• Toll-Free US: (800) 876-8930 •