Dear Mr Allen.
Thank you for registering with funeral-notices.co.uk
Please click this
link
to verify your email address, if you didn't make this request, please ignore this email.
Now it's time to enjoy the benefits of your free membership
Set up custom alerts to notify you via email of new death notices which match your chosen criteria. You can choose from Surname / Town / Area.
As a member you can save any death notice that is important to you, allowing you to access all your saved notices in one place.
Did you know you can create a online Lasting Tribute page for just £10?
Click here

to place a Lasting Tribute page today
An online lasting tribute can be created at any time to commemorate the passing of a loved one, it's a wonderful way to bring family and friends together.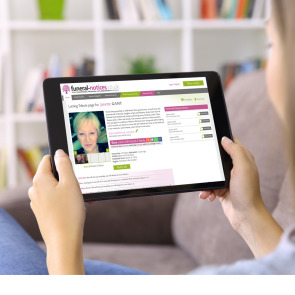 Benefits of choosing an online notice


All our notices stay online forever.


Can be shared with family & friends on social media.


No limits to your special words, with an unlimited word count.


Unlimited photos and videos can be added online.


Unlimited tributes & candles can be added online.


Add additional content and stories online.


All content is moderated by real people.


Click here:

to place a Lasting Tribute page today
Kind Regards
funeral-notices.co.uk