| | |
| --- | --- |
| | Protect. Connect. Inspire. |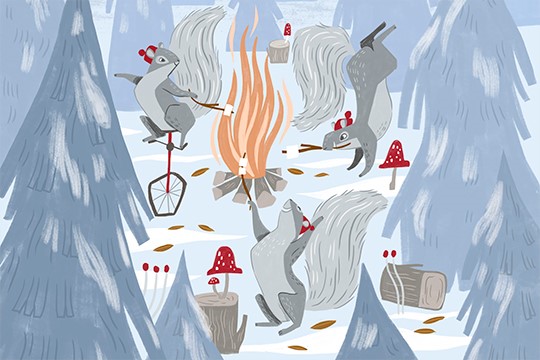 Scene from Wilder and the Very, Very, Very Short Day. Illustrated by Rae Ritchie.
Season's Greetings!
Exciting news to report from GOCO. Earlier this month, our board awarded $15.2 million in funding for 24 projects across the state, which includes open space grants, youth corps grants, and an additional $9.75 million investment in Fishers Peak Ranch in Las Animas County. These projects help conserve Colorado's most iconic open spaces and wildlife habitats and address some of the state's most critical stewardship needs.
The Fishers Peak funding will support Colorado Parks and Wildlife in the agency's acquisition of the property, which will become Colorado's newest state park. This brings GOCO's investment to date in the acquisition to $17.25 million. Be sure to check out our latest Impact Story by Trinidad native Shelby Winter to learn more about the project.
Wilder has been on quite the winter adventure! Generation Wild's beloved, part-goat, part-yeti, larger-than-life character has been in an epic race with the Sun. But even the best adventures must come to an end. Not to worry though, you can relive the fun all year-round. Read on below to learn how you can read the full story or get your hands on a copy of Wilder and the Very, Very, Very Short Day.
Questions or suggestions? Drop us a line at info@goco.org, or take a two-minute survey about our eNewsletter.
Happy holidays to all!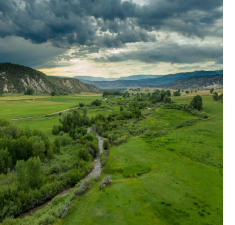 GOCO Awards $15.2M in Grants for Fishers Peak, Open Space, and Youth Corps Projects
On Dec. 10, the GOCO Board awarded $15.2 million in funding to 24 projects across Colorado. The majority of the funding, totaling $9.75 million, supported CPW's acquisition of Fishers Peak Ranch, which will become Colorado's next state park. The board also awarded $5 million in open space grants, which fund land conservation projects, plus an additional $500,000 in funding to the Colorado Youth Corps Association—a statewide coalition of eight corps that train youth and veterans to work on conservation and restoration projects. See the list of grant-awarded projects >>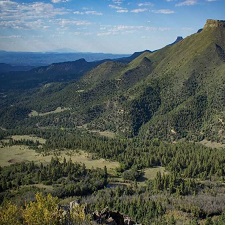 GOCO Impact Story: For Trinidad, A Dream of Fishers Peak Becomes Reality
Earlier this year, Fishers Peak Ranch was acquired by The Nature Conservancy and the Trust for Public Land, with funding commitments from GOCO and Colorado Parks and Wildlife and support from the City of Trinidad. The 19,200-acre property showed tremendous potential as a place to allow new public access for recreation while protecting amazing ecological values and beauty. The project also provides an incredible opportunity to boost the local economy. Fishers Peak will become Colorado's 42nd state park with the first stage of public access slated for 2021, if not sooner. Read the Impact Story by former GOCO intern Shelby Winter >>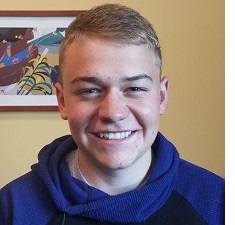 GOCO Spotlight: Get Outdoors Leadville!'s Samuel Frykholm
Flanked by the highest peaks in the Rockies and immersed in mining and frontier history is the City of Leadville, home to Samuel Frykholm who is making extraordinary strides towards his future. Through pathways offered by Get Outdoors Leadville!, a GOCO-supported Generation Wild coalition, Samuel is preparing for a career in the outdoors. And not just any career, but one as a fly-fishing and backcountry-skiing guide in Russia. Generation Wild coalitions, like Get Outdoors Leadville!, are providing Colorado kids with opportunities to connect to the outdoors in meaningful and empowering ways. Learn about Samuel's plans >>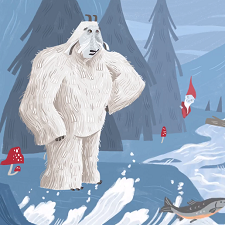 Choose Your Adventure with Wilder
Over the past few weeks, Generation Wild's holiday campaign, Wilder and the Very, Very, Very Short Day, has inspired Coloradans to submit ideas for where Wilder will go next on a wacky, winter journey. And, boy, was it epic! From silly squirrels and a peregrine falcon squadron to a magical gnome and rainbow fish, Wilder has encountered many friends along his way. Though the adventure wraps up on Dec. 21, you can download the full story at GenerationWild.com, or if you really love it, follow the instructions on the page to order a print copy of your own (after Saturday). Read Wilder and the Very, Very, Very Short Day >>
Looking for a job? Check out these employment opportunities:
The Park People,

Development Director

High Country Conservation Center,

Development Director

Care and Share Food Bank for Southern Colorado,

Giving Director

Illuminate Colorado,

Development Officer
Final applications for GOCO's School Yard Initiative (SYI) grants are due Jan. 7 via email. SYI grants aim to promote active physical play and outdoor learning by improving school playgrounds and outdoor spaces.

Find application and submission instructions on the SYI page >>

The International Sportsmen's Expo hits the Colorado Convention Center in Denver from Jan. 9-12. The giant event brings together outdoor enthusiasts and showcases gear, adventures, and services of 500+ companies. Hosted by Colorado Parks and Wildlife, the Outdoors Colorado Pavilion introduces visitors to the folks who manage Colorado's wild places and creatures.

Get the details >>

Durango's 42nd annual Snowdown takes place from Jan. 30-Feb. 3. Colorado's premier winter celebration is back, and this time, rock and roll style! Plus, everyone's favorite yeti Wilder will be in attendance. You can catch Wilder during the free parade as part of the Generation Wild float.

Check out the full list of events >>

Registration for the Salazar Center's Connectivity Challenge is due March 12. The center's inaugural challenge aims to generate innovative ideas that catalyze change, scale impact, and build capacity around conservation by inviting teams to submit proposals for a chance to win a $100,000 grant.

Find more info about the challenge >>




Great Outdoors Colorado (GOCO)
1900 Grant St., Ste 725
Denver, CO 80203
www.GOCO.org | info@goco.org | 303-226-4500

A Colorado Lottery Beneficiary
Copyright 2019 Great Outdoors Colorado