Start Searching Today!
Type a URL to search registration information about any website
Golf Channel Sign Up Information
Email Address
Email
Post-Registration Data
We are still gathering data about this website
Validation
This site did not show evidence of storing passwords in plaintext. This site does allow secured connections (https) This site did show a clear way to unsubscribe from their emails This site does verify your email address.
Membership Emails
Below is a sample of the emails you can expect to receive when signed up to Golf Channel.

Fowler to Wear Mic at Charles Schwab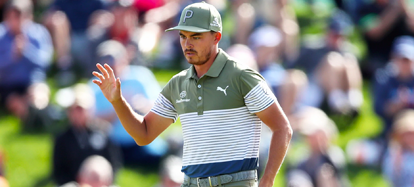 Rickie Fowler will be mic'd up in Round 1 of the Charles Schwab Challenge, but not everyone in his Thursday group is as keen on being heard.
Read Now
Stricker Making Six Ryder Cup Picks

The PGA of America announced Wednesday that it was increasing Steve Stricker's number of Ryder Cup captain's picks from four to six.

Read More
Would Players Boycott Ryder Cup?

Brooks Koepka joined a chorus of players who wouldn't want to play a Ryder Cup without fans. "The fans make that event. The fans make that special."

Read Now
Villegas Reveals Daughter has Tumors

With tears dripping off his face, Camilo Villegas revealed that his 20-month-old daughter has a brain tumor and tumors on her spine.

Read More
Privacy Headed to Hilton Head?

Despite reports that Tiger Woods' yacht Privacy is bound for Hilton Head, officials have no indication that he will play in next week's RBC Heritage.

Read Now
Chipping From the Rough

Not all rough is the same, but the principles to getting out are. In this Andrew Rice tip, he breaks down the five setup and swing keys to help you chip it closer from the rough.

Watch Now

|

View More Instruction
FEATURED VIDEOS & MORE
Biggest Questions as PGA TOUR Returns to Action
'So This is What This Feels Like?' KFT Players Excited for Return
Pepperdine's Theegala Named Ben Hogan Award Winner
Colonial Defending Champ Na: 'It's Nice to be Back to Work'




Privacy Policy

|

View in browser



7580 Golf Channel Dr., Orlando, FL 32819
To unsubscribe from this Golf Channel email, please click here.

| Data Name | Data Type | Options |
| --- | --- | --- |
| Email | Text Box | |
Comments about golfchannel