Start Searching Today!
Type a URL to search registration information about any website
Heyman Talent Sign Up Information
Email Address
Email
Username
Password
Password
Your Name
First Name, Last Name
Your Address
Home Address, City, State, Country, Zipcode
Post-Registration Data
We are still gathering data about this website
Validation
This site did not show evidence of storing passwords in plaintext. This site does allow secured connections (https) This site did show a clear way to unsubscribe from their emails This site does verify your email address.
Membership Emails
Below is a sample of the emails you can expect to receive when signed up to Heyman Talent.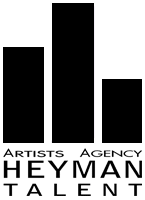 Thank you! Your request will be reviewed quickly. We will contact you via email within 14 business days.
Please make sure to check your junk folder if you do not see our response.

Data Name
Data Type
Options
Company:
Text Box
First name
Text Box
Last name
Text Box
Title
Text Box
Username
Text Box
Password
Text Box
Email
Text Box
Home address
Text Box
City
Text Box
State
Text Box
Country
Text Box
Zipcode
Text Box
dropdown
Select
dropdown
Select
Comments about heymantalent