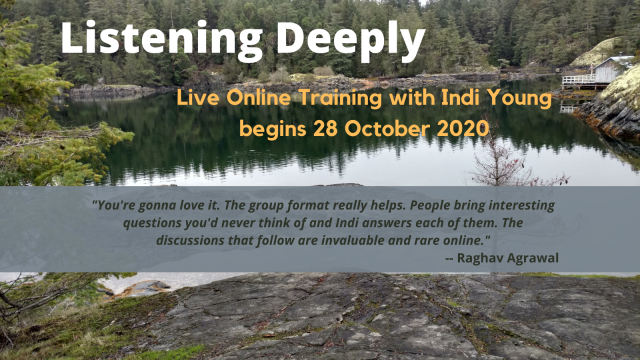 New recordings! New knowledge! New website!
I've been busy with my team to bring new skills & ideas to you.
But first, my course
Listening Deeply
begins on 28-Oct. It's the magic that we all need in our work, and in our lives! There are
many price points
for joining the course, reflecting your many circumstances
.

Listening deeply is the powerful foundation on which the best human connection rests. In your work, listening deeply will power greater depth and insight in your research (evaluative, generative, and problem space opportunity research). In your relationships with your stakeholders, listening deeply builds two-way trust, even in most initially hierarchical & formal relationships. And since this pandemic has many of us connecting remotely for work, listening deeply feeds our mental energy and allows us to collaborate with team members, clients, and everyone with more intensity and participation. "I feel heard" is a sentence few of us get to say often. Listening deeply, repeatedly, is how you give someone the gift of feeling heard. It's how you will feel heard by that person at some future point of the relationship.

There's no class size limit on this course, though Group A and Group B usually max out at 25 people each. There's also a Follow-along option to get the recordings as they are produced, if participating in live classes doesn't fit your schedule, your capacity, or your learning style. Check out the

enrollment & price options

.





New indiyoung.com!
My team and I rolled out a
new website
plus a platform for
the courses I teach
. We did research and tested a few versions of information architecture and navigation. We moved
coaching
to be a part of
workshops
and
mentoring
. I collected my past
recordings
in a hopefully helpful format. I moved my essays to my Medium publication,
Inclusive Software
. We aren't quite finished with all the details yet, but it's looking strong.
These past two months, I've been cooped up indoors because of the smoky air from wildfires. For all of this pandemic, you've been cooped up with your kids ... and/or with too much work. Or no work at all! You can give your mind a little bit of energy and joy by checking out some of the new materials once a month.
Next Up
In the next few months I hope to launch more course materials plus a new book about thinking styles, called Assumptions Aside. I'm also working on demo listening sessions that you'll be able to listen to--about the thinking behind people's decisions to eat out at a restaurant or not during the pandemic.
Hang in there, stay sane, and try to recover connections!
Listen well