Sgroliwch i lawr i ddarllen yn Gymraeg
Llangollen Online presents special message from HRH The Prince of Wales plus online premiere of Global Peace Message as part of 'Eisteddfod Week' programme
Last month, we launched 'Llangollen Online' #connectingtheworld, a digital offering to bring together our global community following the postponement of this year's festival.
Next week, in what would have been 'Eisteddfod Week', we have a programme of online activity to give a flavour of the International Eisteddfod to our many participants and visitors who usually descend on this picturesque Denbighshire town each July.
Artistic Director, Edward-Rhys Harry, says " This is the first time we have ever done anything like this and we are all so excited to be able to share it online with our international community. It has been amazing to have Mererid Hopwood create a new poem for us that has captured the essence of our festival, and we have been overwhelmed by the generosity of others who have given their time to help us create Llangollen Online. We feel very humbled and grateful and hope people enjoy the 'flavour of Llangollen' this year."
On Tuesday 7 July, to open the week, there will be a special message from LIME's patron, HRH The Prince of Wales. It continues a long relationship between The Prince of Wales and the International Eisteddfod, which he has visited three times. During the most recent visit in 2015, The Prince was famously coaxed into dancing with members of a Punjabi bhangra group from Nottingham, the Sheerer Punjabi Dancers, as he waved off the traditional Parade of Nations.
On Thursday 9 July, as part of the festival's traditional 'Peace Day', online audiences will be treated to the premiere of a Global Peace Message. The main feature will be a relayed spoken word performance of a specially commissioned poem, Harmoni a Heddwch, written by Mererid Hopwood. Those taking part in the message include LIME President Terry Waite plus children from Ysgol Rhostyllen, St Giles School Wrexham and Ysgol Dinas Bran. The online premiere will also present the first performance of a new piece of music, sung by Wrexham soprano, Elan Catrin Parry, with words by Hopwood and music by Edward-Rhys Harry.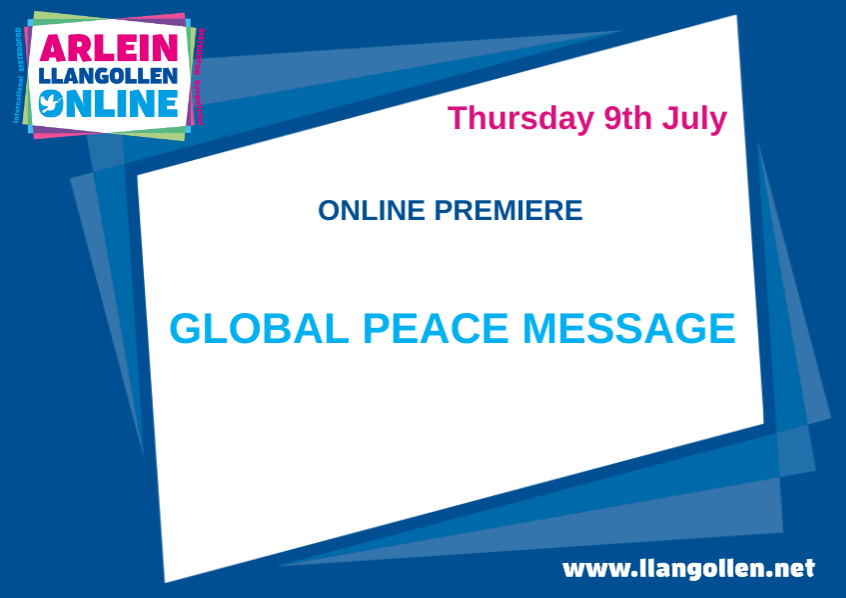 The week will also include the Young Peacemakers Awards, in association with the Welsh Centre for International Affairs (WCIA), an online premiere of the Children's Day Message of Peace by Chris Dukes with local school children from Ysgol Bryn Collen, Llangollen and St Joseph''s Catholic & Anglican High School, Wrexham, and competitor messages from across the globe.
'Eisteddfod Week' will culminate in a 90 minute documentary on S4C on Sunday 12 July at 7.30pm, featuring some of the most memorable moments from the past 25 years.
Over the past 4 weeks, you have been voting via Llangollen.TV for your favourite performances and moments from the last 25 years, from footage showcasing performers from 57 different countries and well over 10,000 competitors.
Tens of thousands of people have voted and the winners will be announced live on S4C's daily show Prynhawn Da as well as on Llangollen.TV every day during what would have been Llangollen 2020's 'Eisteddfod Week' from Tuesday 7 to Saturday 11 July.
Relive Llangollen 2019 with a special broadcast of last year's highlights programme to be shown on BBC TWO Wales on Sunday 5 July at 7pm.
We hope you enjoy Llangollen Online!
Did you know? We are a not for profit organisation that relies greatly on supporters, ticket sales and donations.
Registered Number: 1165311 Registered Charity Number: 504620
Llangollen Arlein yn cyflwyno neges arbennig gan Dywysog Cymru ynghyd ?'r Neges Heddwch Rhyngwladol gyntaf erioed arlein fel rhan o raglen 'Wythnos yr Eisteddfod'
Y mis diwethaf, lansiodd Eisteddfod Gerddorol Ryngwladol Llangollen 'Llangollen Arlein' #cysyllturbyd, sef cynnig digidol i ddod ?'i chymuned fyd-eang ynghyd yn dilyn gohirio gwyl eleni.
Yr wythnos nesaf, yn yr hyn a fyddai wedi bod yn 'Wythnos yr Eisteddfod', bwriedir darparu rhaglen o weithgareddau arlein i roi blas o'r Eisteddfod Ryngwladol i'r nifer fawr o gyfranogwyr ac ymwelwyr sydd fel arfer yn tyrru bob Gorffennaf i'r dref hardd hon yn Sir Ddinbych.
Dywed Edward-Rhys Harry, Cyfarwyddwr Artistig Eisteddfod Gerddorol Ryngwladol Llangollen: "Dyma''r tro cyntaf erioed i ni wneud unrhyw beth fel hyn ac rydym yn teimlo'n gyffrous iawn i allu rhannu'r neges arlein gyda''n cymuned ryngwladol. Mae wedi bod yn anhygoel cael Mererid Hopwood i greu cerdd newydd i ni sydd wedi crisialu hanfod ein gwyl, ac rydym wedi ein rhyfeddu gan haelioni pobl eraill sydd wedi rhoi o'u hamser i'n helpu i greu Llangollen Arlein. Rydym yn teimlo'n wylaidd a diolchgar iawn ac yn gobeithio y bydd pobl yn mwynhau cael 'blas o Langollen' eleni."
I agor yr wythnos ar ddydd Mawrth y 7fed o Orffennaf, cyflwynir neges arbennig gan noddwr yr Eisteddfod Ryngwladol, Ei Uchelder Brenhinol Tywysog Cymru. Mae hyn yn cynnal y berthynas hir rhwng yr Eisteddfod Ryngwladol a Thywysog Cymru, sydd wedi ymweld ?'r wyl deirgwaith. Mewn digwyddiad cofiadwy yn ystod ei ymweliad diweddaraf yn 2015, cafodd y Tywysog ei annog i ymuno mewn dawns gydag aelodau o Dawnswyr Sheerer Punjabi, grwp bhangra o Nottingham, ar gychwyn Gorymdaith y Cenhedloedd, un o draddodiadau nodedig yr Eisteddfod.
NEGES HEDDWCH RHYNGWLADOL
Ar ddydd Iau y 9fed o Orffennaf, fel rhan o 'Ddiwrnod Heddwch' traddodiadol yr wyl, bydd cynulleidfaoedd arlein yn cael gweld Neges Heddwch Rhyngwladol gyntaf erioed yr Eisteddfod. Prif ran y digwyddiad fydd perfformiad llafar o gerdd gomisiwn arbennig, Harmoni a Heddwch, a ysgrifennwyd gan Mererid Hopwood. Ymhlith y rhai fydd yn cymryd rhan y mae Llywydd yr Eisteddfod Ryngwladol, Terry Waite, ynghyd ? phlant o Ysgol Rhostyllen, Ysgol San Silyn Wrecsam ac Ysgol Dinas Bran. Bydd y premiere arlein hefyd yn cyflwyno perfformiad cyntaf darn newydd o gerddoriaeth, wedi''i ganu gan y soprano o Wrecsam, Elan Catrin Parry, gyda geiriau gan Mererid Hopwood a cherddoriaeth gan Edward-Rhys Harry.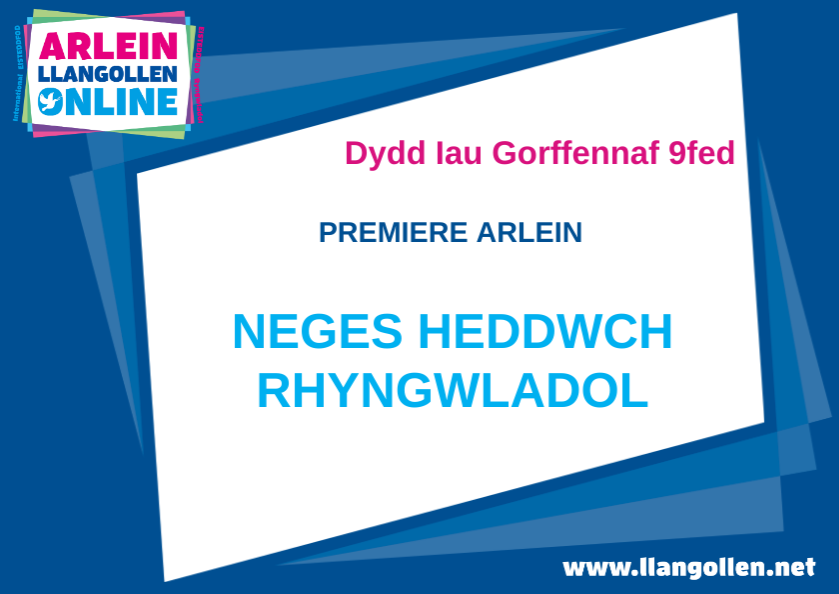 Bydd yr wythnos hefyd yn cynnwys Gwobrau Heddychwyr Ifanc, ar y cyd ? Chanolfan Materion Rhyngwladol Cymru (WCIA), premi?re arlein o Neges Heddwch y Plant gan Chris Dukes gyda phlant ysgolion lleol Ysgol Bryn Collen, Llangollen ac Ysgol Uwchradd Catholig ac Anglicanaidd St Joseph, Wrecsam, a negeseuon gan gystadleuwyr o bob cwr o''r byd.
Bydd 'Wythnos yr Eisteddfod' yn dod i ben gyda rhaglen ddogfen 90 munud ar S4C am 7.30pm ar ddydd Sul 12fed o Orffennaf, fydd yn bwrw trem yn ?l ar rai o eiliadau mwyaf cofiadwy y 25 mlynedd diwethaf.
Dros y 4 wythnos ddiwethaf mae pobl wedi bod yn pleidleisio trwy gyfrwng Llangollen.TV dros eu hoff berfformiadau ac eiliadau cofiadwy o''r 25 mlynedd diwethaf, wrth wylio clipiau ffilm yn arddangos perfformwyr o 57 o wahanol wledydd ac ymhell dros 10,000 o gystadleuwyr.
Mae degau o filoedd o bobl wedi pleidleisio mewn pum categori a bydd yr enillwyr yn cael eu cyhoeddi'n fyw ar sioe ddyddiol S4C 'Prynhawn Da'' yn ogystal ag ar Llangollen TV bob dydd yn ystod yr hyn a fyddai wedi bod yn Wythnos Eisteddfod Llangollen 2020 o ddydd Mawrth y 7fed o Orffennaf a dydd Sadwrn yr 11eg o Orffennaf.

Fel tamaid i aros pryd cyn cychwyn yr wythnos, gall cynulleidfaoedd ailfyw Llangollen 2019 gyda darllediad arbennig o raglen uchafbwyntiau'r llynedd i'w dangos ar BBC TWO Wales am 7pm ar ddydd Sul y 5ed o Orffennaf.

Gobeithiwn y byddwch chi''n mwynhau Llangollen Arlein!
Oeddech chi''n gwybod? Rydym yn sefydliad ''nid-er-elw'' sy''n dibynnu''n fawr ar gefnogwyr, gwerthiannau tocynnau a rhoddion
Dad-danysgrifio Gyrru Ymlaen Darllenwch arlein
Rhif Cofrestredig: 1165311 Elusen Cofrestredig: 504620
Scroll up to read the English