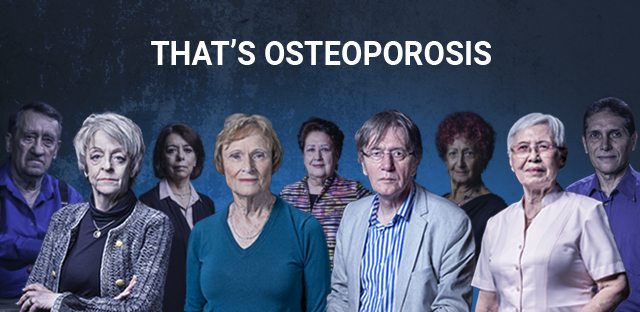 Sunday, October 20 is World Osteoporosis Day!
World Osteoporosis Day is the occasion to raise public awareness through the media, and to call on health authorities to reduce the costly burden of fragility fractures in their countries. IOF President Professor Cyrus Cooper stated:
"As experts in the field we join our patient advocates in urging global action. A pervasive treatment gap is leaving even the most high-risk patients unprotected against fractures. An individual who has already had one fragility fracture is highly vulnerable to further fractures, with a five times greater risk of another fracture within the first year. Yet approximately 80% of these patients are neither identified nor treated for the underlying cause, osteoporosis."
It's time for action! Here's what you can do to support the global campaign:
> Sign the IOF Global Patient Charter and add your voice to the call for the rights of all people with osteoporosis to timely diagnosis, management and long-term care.

> Visit www.worldosteoporosisday.org to download a wealth of resources and information on the disease, including posters, the new 2nd Edition of the IOF Compendium of Osteoporosis and the 'That's Osteoporosis' leaflet, available in nine languages.

> Share the link to the new IOF OSTEOPOROSIS RISK CHECK – available in 13 languages to date, with a total of 33 languages planned.

> Learn about Fracture Liaison Services (FLS) through our Capture the Fracture® programme. If you already have an FLS, be sure to join the programme and help to grow the global FLS community.

> Submit information about any World Osteoporosis Day events you have held or are still planning.

Let's all work together towards a world where seniors can enjoy healthy mobility, without broken bones due to osteoporosis.
#worldosteoporosisday