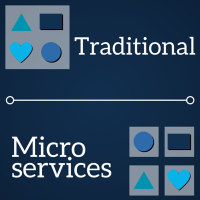 Enterprise Concerns: Changing Technologies
A common concern found in enterprise organizations is often: "How do we know that something new is not going to come along and make our current technology stack obsolete?" Or, "How long is our current technology stack going to last?"

The short answer is that we don't know, at least not without a doubt. To our clients, we suggest that change will happen, so they should proactively put in place a decoupled system architecture that provides a smaller surface area of change for future applications.

There are two architectural styles that have become popular in the last few years that can help this proactivity come to pass, and in the process give agility. They are known as Single-Page Applications and Microservices. In this document, we will discuss these two patterns, including an overview of how they work, when best to consider them, and suggestions for a successful implementation of each approach.

In this white paper we discuss two architectural styles that mitigate technology shift and promote agility: Microservices and Single-Page Applications.