Introducing a new product into contract manufacturing generates a lot of questions. Nothing is more frustrating than having a question emailed to you while out of the office, only to find out that production has been delayed for days because the factory was waiting on your response..
As a product engineer, you've been down this path a few times with most of your products and you likely know where questions are going to arise. Wouldn't it be great if you could just answer commonly asked questions once and know that your CM can find them when they need?
Get your message across and stop having to repeat yourself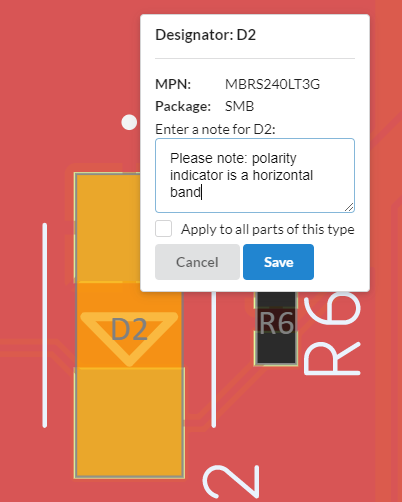 With the MacroFab Manufacturing Platform, you can add notes to individual components or groups of them to communicate any issues you may have had in the past with other manufacturers. By doing this, not only will you eliminate tedious emails back and forth as questions come up - but you will also ensure that unexpected delays don't occur because an assembly technician was stumped by an unusual marking or orientation of a component.
Simply go to your PCB Builder, select Part Placement, and then click on any component to create a note. This note will now be available to all assembly technicians when building your PCA.
The MacroFab Manufacturing Platform enables process optimization at every point in the product lifecycle, from initial design to volume production, all at no additional cost to your teams.
Log In To The MacroFab Platform To Add Notes To Your Part Placement Data