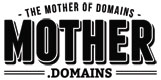 Dear Mila Baker (Jon),
Thank you for creating a Mother.Domains account.
Please visit the link below and sign into your account to verify your email address and complete your registration.
https://mother.domains/clientarea.php?verificationId=cddf2d3cf51767ff30a5ac8639d6d73289fa0f50
You are receiving this email because you recently created an account or changed your email address. If you did not do this, please contact us.
Mother.Domains
https://mother.domains