Welcome to The Corner. In this issue, we introduce our white paper on The Role of Monopoly in America's Prescription Drug Crisis. We also introduce our white paper on The Role of Hospitals in America's Health Care Crisis.
To read previous editions of The Corner, click here.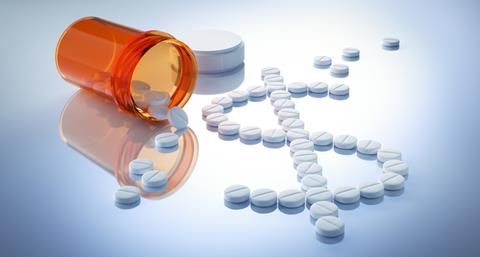 White Paper: The Role of Monopoly in America's Prescription Drug Crisis
Bipartisan reform efforts to combat high drug prices often fail to recognize how pharmaceutical corporations suppress fair market competition through various forms of monopoly. In a newly published white paper by the Open Markets Institute, The Role of Monopoly in America's Prescription Drug Crisis, we detail how increasing corporate concentration in the pharmaceutical industry, and the monopoly markets for individual drugs created by a deeply flawed and increasingly abused patent and regulatory system, are the root causes of the problem.
Drug manufacturers engage in a variety of anti-competitive practices, such as abusing the patent system, various FDA regulations, filing sham citizen petitions with the FDA, and tactics to eliminate competition. These practices are used to extend and protect monopolies and to stifle competition—and they wind up needlessly costing consumers millions of dollars each year.
These practices ultimately drive up drug prices, decrease innovation, and cause shortages and disruptions of the supply of many key drugs. They also imperil drug safety.
Brand drug manufacturers also stifle competition and gain monopoly profits by offering substantial rebates or discounts to large-scale buyers—but only if the purchasers refuse to buy a competing generic drug that might erode the brand drug's market dominance.
Many of these problems can be solved or ameliorated through better competition policy, which can involve the application and enforcement of our antitrust laws. Other policy solutions include the forced licensing of patents, cash prizes for innovation, or price regulation, among other recommendations.
In each instance, we are looking for public policies that will reset the terms of competition and the balances of power in drug markets so that they serve the public good. Read our entire report here.
White Paper: The Role of Hospitals in America's Health Care Crisis
Last week, the Open Markets Institute released a white paper titled The Role of Hospitals in America's Health Care Crisis. Our paper explains how market concentration in the hospital industry results in higher prices for medical services, the weaknesses of our current polices to roll back harmful mergers, and the paper presents several policy options for remedying these issues.
Policy Director Phillip Longman explained that "hospital consolidation can lead in some instances to economies of scale and better-integrated care. Yet in the absence of coherent policies for managing competition, the real-world results of corporate concentration in health care have been hospital closures, increased prices, and loss of choice for health care consumers." Ultimately, we argue that hospital consolidation should be a standard part of health policy discussion, particularly if proposals to move to a single-payer system gain steam. Read the full report here.
Athena, a grassroots alliance of more than 40 organizations united in opposition to Amazon's growing monopoly power, was launched late last month. Co-founded by the Open Markets Institute and others, the launch of Athena is a watershed moment in the larger anti-monopoly movement of our time. This diverse coalition of workers, consumers, small-business people and advocates stand united in the fight for a just economy and a fair democracy in the shadow of Amazon's immense influence.
In the words of our larger coalition: "We are joining together to stop Amazon's growing, powerful grip over our society and economy. We're going to write new rules so that our economy puts people first, our public officials ensure that no corporation is above the law or too big to govern — and that our democracy, finally, represents all of us."
Open Markets Employment Opportunities
The Open Markets Institute is hiring for two positions: a Director of the Center for Liberty and Journalism and a Director of Entrepreneurship and Independent Business.
Open Markets is looking for a Director of the Center for Liberty and Journalism who will help ensure that the news media is fully independent and funded in the 21st century's digital economy. The Center will conduct cutting-edge research into news media market structures, engage with policymakers and support efforts to design smart policy solutions, and reshapethe national narrative around the market structures that threaten the independence and financial stability of America's news media.
Open Markets is also looking for a Director of Entrepreneurship and Independent Business who will help develop Open Markets' effort to educate the public and other stakeholders on the importance of competition policy to entrepreneurship and strong independent businesses. This Director would track and work on policy developments, educate policymakers and reporters, and organize public or private action.
You can find the full job listings here.
Matt Stoller spoke with Business Insider about the growing movement to fight economic inequality and corporate power. Stoller said that an alliance between the left and the right on this issue was not only necessary but very promising. Business Insider also named Matt Stoller's book, Goliath, one of the best books of 2019 on how to rethink capitalism and improve our economy.


Open Markets Institute was featured in Jacobin as a leader in the effort to democratize the internet and confront corporate power. "At least in the United States, the cutting edge of the platform regulation conversation is dominated by liberal antitrust advocates, perhaps best represented by the Open Markets Institute."


Matt Stoller spoke with Fast Company in an interview that covered a wide range of antitrust issues, including big tech, free markets, and the future of our democracy. When asked about taking on big tech with our current antitrust laws, Stoller said, "There are laws that exist that people can use. They just don't."


Matt Stoller told Fortune about the dangers of Disney's monopoly power in the entertainment industry." The new Disney is more a private equity group than studio, collecting brands and using them to bargain aggressively with partners, suppliers and consumers … It is not a corporation that pushes the bounds of artistic and technological possibility, but a corporation that pushes the bounds of legal possibility."
We appreciate your readership. Please consider making a contribution to support the continued publication of this newsletter.
<![if !mso]>
DONATE
<![endif]>
3,800
The number of bank mergers since 2011 that the Federal Reserve has not challenged, according to a memorandum issued by the House Financial Services Committee.
"We Asked Public Universities for Their Professors' Conflicts of Interest — and Got the Runaround" (ProPublica, Annie Waldman and David Armstrong): How it is difficult, if not impossible, to obtain conflict of interest disclosures from university professors to determine whether the opinions they assert are biased.

"Economists: Bright Stars of Antitrust Analysis or Well-Paid Advocates Who Spin a Good Yarn?" (mlex, Curtis Eichelberger): Detailing the arguments for and against—as well as the consequences of—incorporating economists into antitrust litigation.

"The Case for Growth Centers: How to Spread Tech Innovation Across America" (Brookings Institution, Robert D. Atkinson, Mark Muro, and Jacob Whilton): How 90% of U.S. job growth in the "innovation sector" since 2005 was confined to only five of America's largest cities: Boston, the San Francisco Bay Area, San Jose, Seattle, and San Diego.

"Save the .ORG Domain and All It Symbolizes" (The Hill, Marc Rotenberg): How the sale of the company managing the .ORG domain to a private equity firm endangers the current public interest ideals symbolized by the domain.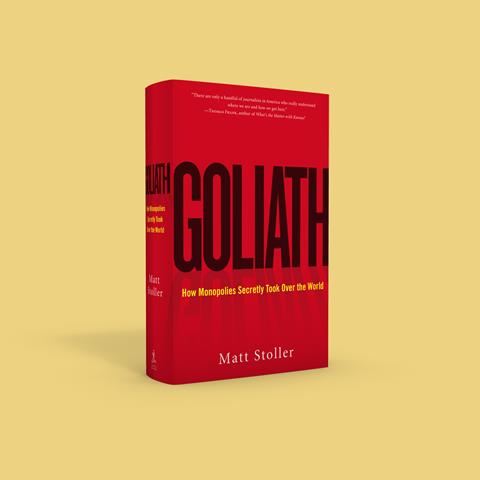 Goliath: The 100-Year War Between Monopoly Power and Populism
Open Markets Fellow Matt Stoller's new book, Goliath, reveals how we once defeated monopolies and authoritarianism but then allowed these forces to return and deliver us our current chaotic political moment. Learn how our forebears reclaimed our democracy, so that we might as well. Available in bookstores. Order online here.
🔎 TIPS? COMMENTS? SUGGESTIONS?
We would love to hear from you—just reply to this e-mail and drop us a line. Give us your feedback, alert us to competition policy news, or let us know your favorite story from this issue.
<![if !mso]>
SUBSCRIBE TO OUR NEWSLETTER
<![endif]>
<![if !mso]>
DONATE
<![endif]>